LEMUR LUXURY
17 May 2016
Rattan-woven pods form an authentic landscape for the new immersive lemur exhibit at the Melbourne Zoo.
Built especially for the lemur exhibit at Melbourne Zoo, OLA Architecture Studio undertook the project together with landscape architects Urban Initiatives and Arterial Design.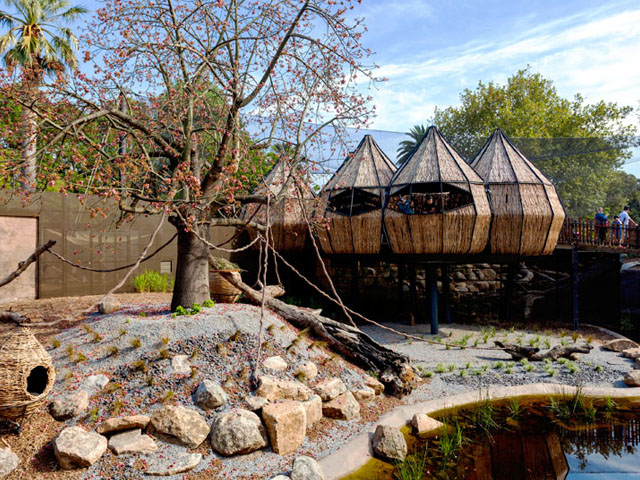 Aiming to distill a distinctive zoo experience for visitors, the immersive outdoor exhibit features an 'entry tunnel' and a tree house that sit at each end in between the walk-through display. The high impact exhibit allows visitors and lemurs interact in an up close and personal environment
The main element of the design is the tree house, which visualizes as a collection of geometric pods that are nestled together. The connected volumes provide the playful focal point for the lemur experience. Simultaneously, they function as the necessary buffer to provide a staged exit for visitors leaving the aviary where the animals and visitors share the same space.
The pods establish a sympathetic and sensitive relation to its rainforest landscape. Wrapped in a woven skin, the matte black structural steel and recycled timbers complement the rich, organic weave of the rattan walls. During the development stages of the created landscape, sustainability was a factor that led to the choice in recycled materials, long-term and low lifetime impact solutions.
By minimising environmental impact and creating a distinctive experience, visitors can simultaneously be transported to a scenery beyond the grounds of the zoo and inherently, "encourages the public about matters of habitat preservation and sustainability through design is possibly its greatest contribution to environmental sustainability."
SEARCH
SUBSCRIBE TO ENEWS
MORE NEWS
ONE-OF-A-KIND OBSTACLE COURSE
MOUNTAINS OF FUN
AN EXCITING NEW RANGE OF PLAY
GET THE FULL PLAYGROUND EXPERIENCE
DISCOVER NEW LEVELS OF FUN WITH NUMAT
COMMUNITY PLAYGROUND HAS IT ALL