ECO-FRIENDLY PLANT SUPPORT
08 Jun 2016
Plant N' Pave supply specialised eco-friendly landscaping products that go hand in hand with their expertise in landscape design and construction solutions.
Plant N' Pave landscaping solutions is a leader in landscape design and construction as well as supplying specialised environmentally friendly landscaping products. Collaborating with landscape designers, architects and developers to provide an alternative to traditional landscaping products and designs, Plant N' Pave's difference lies in their services model that commits to quality and innovation in all phases of the landscaping process.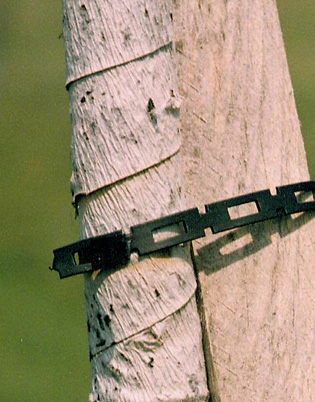 Specialising in small to medium landscaping projects, and with a unique portfolio of new-to-market products designed to improve construction methods and techniques, everything Plant N' Pave offers is high quality, cost effective and environmentally friendly. And, thanks to their numerous professional contacts, Plant N' Pave are able to source a large variety of plant stock at the best prices.
With a wealth of arboricultural and horticultural knowledge behind them Plant N' Pave know the best types and combination of plants to suit any project need. Their planting expertise means that plants supplied and installed have a greater survivability and growth rate to ensure clients get the most out of their plants.
Plant N' Pave also supply a number of complementary products to assist in maximising large plant and tree stock survivability and shaping. Three popular products supplied by Plant N' Pave are the ArborGard™ TREE PROTECTOR, the ProLock™ CHAIN-LOCK and the EdgePro™ edging system range.
The ArborGard™ Tree Protector is an easy-to-install tree protector designed to shield tree trunks from damage caused by string trimmers, gardening equipment, tools and small pests. They are specially designed to expand as the tree grows, and units can be combined for larger tree protection.
ProLock™ Chain-Lock is a strong continuous length locking system perfect for securing plants and small trees to support stakes. Made from durable high-quality recycled material with UV protection, it is designed to prevent cracking due to sun exposure.
EdgePro™ edging range is a flexible system made from high quality, recycled materials and designed to last. Easy installation, resistance to damage and pests and longevity make this cost effective solution a top choice for landscapers.
From landscaping to design consulting, Plant N' Pave is committed to ensuring their clients receive the best in quality plants, advice and plant support products.
Full the full range of services Plant N' Pave can offer, along with their unique range of market products, visit www.plantnpave.com.au
SEARCH
SUBSCRIBE TO ENEWS
MORE NEWS
ASIA'S LARGEST URBAN ROOFTOP FARM
PLANT BREEDING AND CONTEMPORARY AUSTRALIAN GARDEN DESIGN
CLIMATE CHANGE EXTREMES CANCEL OUT BENEFITS FROM TREES
GREENING THE CITY
MELBOURNE TAKES STEPS TO GREEN THE CITY
VERTICAL URBAN FARM GROWS ON THE STREETS