WHEELCHAIR ACCESSIBLE PLAY EQUIPMENT
16 Jun 2022
Proludic has unveiled its inclusive and accessible play equipment with innovatively designed features that promote fun for all.
Proludic understands how important playtime is for the development of all children. The company provides an extensive range of inclusive play equipment from trampolines to springers, cubby houses to seesaws. Two highlight products are the wheelchair accessible Inclusive Seesaw J987® and the Inclusive All-terrain Vehicle J952®.
Proludic has taken a step in the right direction for inclusive play designs with its seesaw module. With the capacity to hold two wheelchair users at the same time as well as room for carers, parents and children alike can be involved in the fun, as the seesaw encourages physical play with the opportunity for socialising.
Variety Livvi's Place Lt Cantello Reserve
Best designed for socialising and developing key physical aspects in children such as balancing, this play unit promotes children interacting and enjoying fun together. Perfect for schools and parks, the seesaw promotes all-inclusive play in every setting. The final element for every playspace, the Inclusive Seesaw J987® is fundamental to creating all-inclusive playgrounds for children of all ages.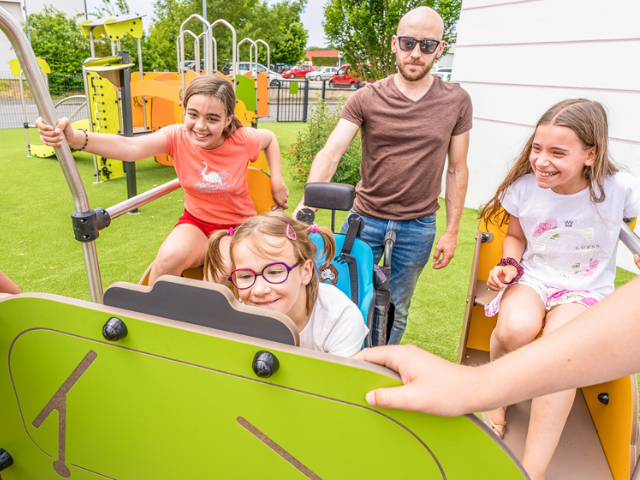 You've heard of The Wiggles big red car, get ready for Proludic's Inclusive All-terrain Vehicle. Able to host one child who uses a wheelchair and several other children, the springer is a play activity hub for all to enjoy. Designed as a springer, the unit can rock to and fro like a car on a bumpy road.
A sliding ramp integrated at the back of the unit allows wheelchair users the front seat to the action with a selection of sensory activities at their fingertips. The rest of the unit includes more sensory activities for children to enjoy and the opportunity for children to socialise and join in the fun together. As always, Proludic has designed an innovative and unique all-inclusive play hub that children of all abilities can enjoy and will make an ordinary playspace very special.
As part of Proludic's commitment to inclusive play for all, the team has designed many wheelchair accessible pieces of play equipment including its award-winning inclusive trampolines, multi-play equipment with accessible ramps, inclusive roundabout and so much more!
To find out more from Proludic and its one-of-a-kind products, click the links below.
SEARCH
SUBSCRIBE TO ENEWS
MORE NEWS
RICHTER PLAYSPACE ARRIVES IN TASMANIA
TAKE ON THE HIGH SEAS OF FUN WITH PROLUDIC
WETPOUR RUBBER FLOORING AT WINTON WETLANDS
BOAT-THEMED PLAYGROUND BY THE RIVER
NATIVE PLAY
PLAY AND FITNESS EQUIPMENT YOU CAN TRUST