UNIQUELY AUSTRALIAN PLAY
22 Nov 2017
Stockland Rockhampton's new playspace reflects the agricultural history of the region, with play elements from Art Dinouveau that entertain and educate in a uniquely Australian way.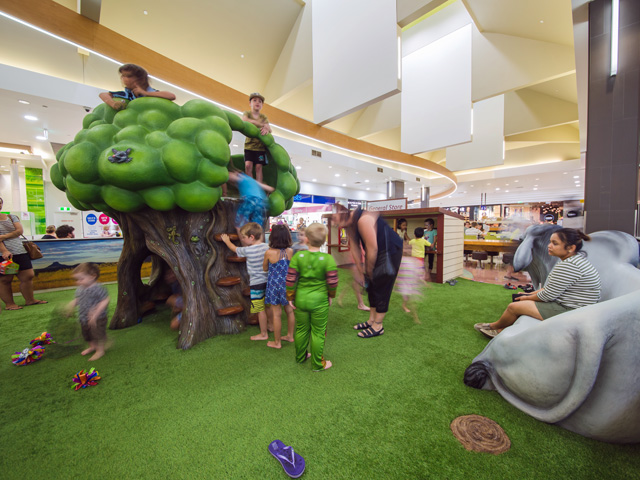 Art Dinouveau's newest playspace pays homage to the beef cattle capital of Rockhampton. Created in association with Touched by Olivia, the Stockland shopping centre playspace was inspired by a typical Rockhampton cattle property and is designed to include and accommodate children of all abilities.
Among the play elements featured in the playspace is a double-storey treehouse with a lookout and slide, a child-sized general store, a miniature cattle ramp, and even ultra-realistic cow pat steppers.
Custom designed by Art Dinouveau, the playspace was created in accordance with community feedback requests that it reflect the culture of the local area. The response to the playspace has been overwhelming, with visitation levels well above those expected.
The central feature of the new play area is an amazing sculptural Treehouse. Art Dinouveau's latest offering to the world of play, the Treehouse features an upstairs and downstairs cubby space, a curved slide, a bracket fungi ladder, and numerous hidden tactile elements for discovery and learning. The Treehouse offers the unique opportunity for both active and quiet play simultaneously.
Located centrally in the food court of the shopping centre, the new playspace provides seating for parents at tables surrounding the area, allowing them to keep an eye on their children as they play.
Installation of the equipment was completed by the team from JM Kelly Builders. The photographic mural forming the perimeter of the space is the work of local photographer Nathan White. The Brahmchairs were made by Natureworks, and the stainless steel cattle ramp slide was made by Bundaberg-based play experts Willplay. Playground certification was completed by CCEP.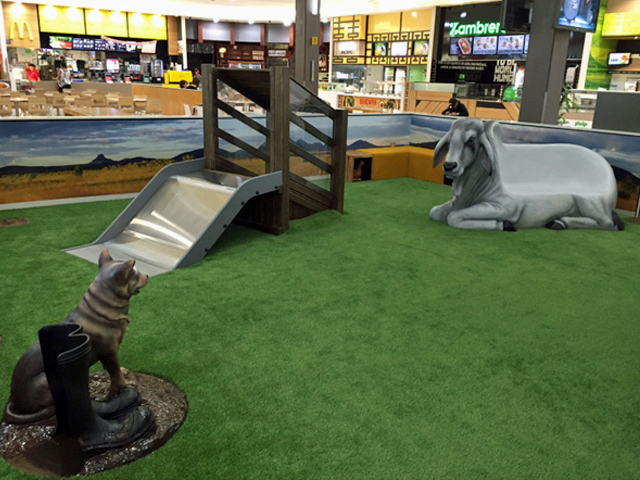 ART DINOUVEAU
Art Dinouveau specialises in the creation and fabrication of nature-based play elements. Their pieces are created from fibreglass, for strength, and completed in two-pack urethane to produce a fade resistant, brightly coloured finish. Their nature-inspired play sculptures promote imaginative, unstructured play in children of all ages and abilities.
Visit Art Dinouveau's inspiring website to view the full range of fantastical play elements on offer.
SEARCH
SUBSCRIBE TO ENEWS
MORE NEWS
VIVA LA PLAY
LEDGE WITH A VIEW
THE SOCIAL VALUE OF PUBLIC SPACES
KOMPAN OUTFITS QUEENSLAND'S LARGEST PLAYGROUND
RUSTIK STYLE WITH A SUSTAINABLE EDGE
ECO LEISURE RESORT