ULTIMATE ARCHITECTURAL FREEDOM
15 Apr 2021
Looking to design an iconic landmark that makes Australians say WOW? KOMPAN Australia has you covered.
The architectural freedom of Corocord™ is ultimate. In collaboration with KOMPAN's Australian design and engineering teams, clients can idealise unique and unrivalled play monuments that can take on almost any shape and expression and invites children and adults to come and play.
Custom built to suit your clients unique project vision and environment, KOMPAN's Australian in-house experts works in partnership with you to conceptualise timeless yet contemporary play structures.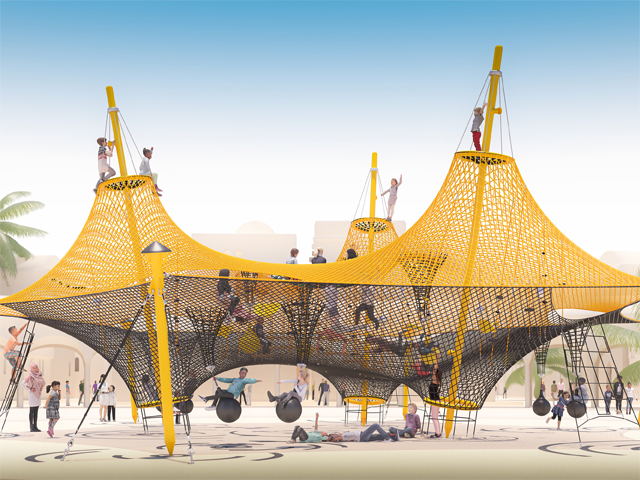 KOMPAN prides itself on being long-life partners in play and has built a strong industry reputation for delivering cost-effective and high-quality Australian playgrounds for over 36 years that have proven to withstand the test of time. Throughout the entire conceptual, engineering, manufacturing, and construction phases, KOMPAN will provide guidance and continue supporting the client's project right through to the end of its asset life.
With a focus on delivering iconic spaces that create healthier and happier communities, KOMPAN ensures every Corocord structure is rich with ground level and elevated play activities that challenge children to grow, learn, and develop as they play. The countless climbing opportunities develop creativity and activate senses that stimulate social interaction and communication, which builds social skills, leading to stronger friendships.
All custom Corocord playgrounds are based on steel and rope componentry, making every design highly durable and vandal-resistant and are backed by KOMPAN's industry-leading warranties.
Safety is a paramount consideration for all custom playgrounds. Every part of the design, engineering, and construction process is geared to ensure absolute safety, and final products are certified by TÜV and meet Australian safety standards.
With over 15 concept designs to explore, the new Corocord inspirational brochure will stimulate the mind with endless design possibilities. To download your copy, click HERE and contact KOMPAN's Australian team via the links below to start planning your next custom playscape.
Click on the links below to find out how KOMPAN can help you with your next project.
SEARCH
SUBSCRIBE TO ENEWS
MORE NEWS
CREATING A SPACE FOR EVERYONE TO ENJOY
PARK WARRIOR COURSES ARE SPRINGING UP ACROSS AUSTRALIA!
SOFTFALL TESTING PARTNERS WITH PLAYGROUND123
BRINGING TOGETHER THE BEST IN LOCAL DESIGN
NATURE-BASED PLAY
PROLUDIC JOINS AILA