TIPPLER'S HUB PROVES A PLACE FOR ALL AGES
05 Apr 2017
Children of all ages are excited about the new play area at Tippler's Hub on South Stradbroke Island, forget the areas pristine beauty, the kids are here to play!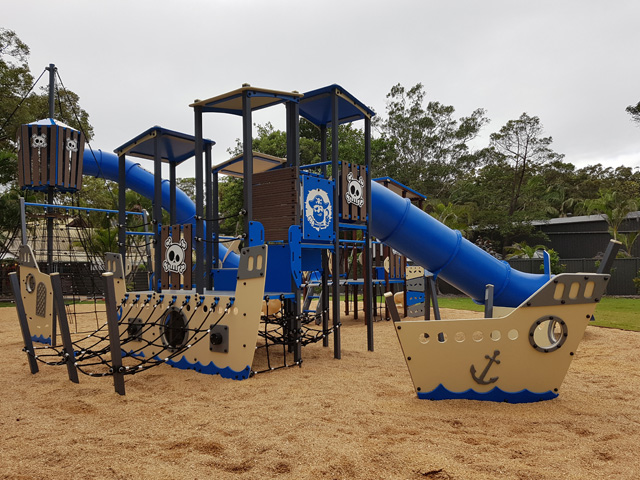 Willplay has recently completed the new play area development at Tippler's Hub on South Stradbroke Island. The City of Gold Coast has selected WillPlay for the design and construction of an area that combines two separate play systems to suit children of all ages.
Located next to the local cafe and bar area, this area is popular as a day break with local boaties and now they and their families have even more incentive to stay. The playpark is a great area for children of all ages to safely burn off excess energy while their caretakers can sit back and watch from afar.
Not only are there plenty of features for the young ones to play upon, the park system also features plenty of large scale slides and climbing ropes for older children that are a little more adventurous.
The Tippler's Hub playpark system features a Giant TreeHouse and a custom FairyTale Pirate Ship from the Willplay product range. Available in a range of colour options the two play systems are designed to comply with AS4685.1-6 2014 and the system has been custom designed to suit the area and the design bill's requirements.
Willplay was selected to construct this playpark due to the premium quality of the materials used in their playground range. WillPlay's equipment is perfect for a waterside location as their play equipment range is made from:
UV stable post-consumer recycled HDPE
Powder-coated marine grade aluminium
Powder-coated 304 stainless steel
Roto moulded plastic
Stainless steel fasteners
16mm woven nylon rope and aluminium rope fittings
With quality material manufacturing, the locals of Stradbroke Island and the numerous visitors each year can rest assured that Tippler's Hub will be around for many years to come.
For more information on the Willplay range visit their website at www.willplay.com.au
SEARCH
SUBSCRIBE TO ENEWS
MORE NEWS
PLAY AND FITNESS EQUIPMENT YOU CAN TRUST
NATURAL TIMBER PLAY STRUCTURES
NATIVE PLAY
BOAT-THEMED PLAYGROUND BY THE RIVER
360-DEGREE NETTED TERRAIN PLAYSPACE
RICHTER PLAYSPACE ARRIVES IN TASMANIA