THE WATER GARDEN EXPERIENCE
20 Mar 2012
Clearpond is the leading and exclusive distributor of Australia's largest range of high quality water gardening products
From humble beginnings in 1992, working from a tiny shed on the family hobby farm, Clearpond has evolved into the leading aquatic supplier in the southern hemisphere, with a reputation for innovation and quality.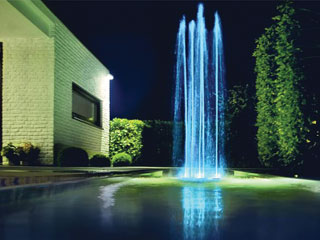 Clearpond is the leading and exclusive distributor of Australia's largest range of high quality water gardening products suppling famous brands such as the world-leading OASE of Germany and Pietro by Clearpond stoneware with distributors Australia wide.
Pietro by Clearpond is the largest & highest quality range of distinctive Fountains, Urns, Sculptures, Planters and Garden Decor made from G.R.C (Glass Re-enforced Concrete) in the world today. Pietro by Clearpond brings indoor and outdoor stoneware decor to a whole new dimension. 20 years of expertise has resulted in a collection that is lightweight, stable and very resilient. Each Pietro by Clearpond product is individually hand finished, distinctive and a patented work of art. With over 200 different designs in a vast array of available colours you are sure to find the right feature for your yard or office space. Special orders are also available!
Clearpond will be displaying a vast array of Pietro products at the Melbourne International Flower and Garden Show from the 28th of March to the 1st of April and at Perth Garden week from the 19th to 23rd of April 2012. New dealer enquiries are welcome through the contact details below.
Oase of Germany are the world leaders in pond and water feature equipment, from backyard ponds to dams and lakes to commercial displays, Oase has a product for all applications. Whether you require water entertainment, fountain technology and lake management equipment, Oase has got it covered!
Clearpond services and offers expert advice on:
• Water gardens
• Water entertainment
• Lake management
• Water features
• Fountain technology
• Garden decor
• Swimming pools
• Urns and planters
• Water harvesting
• Aquaculture
• Aquaponics
Clearpond can help you establish, maintain and most importantly enjoy your pond or water feature from start to finish!
SEARCH
SUBSCRIBE TO ENEWS
MORE NEWS
WATER FEATURES FOR A LUSH OASIS
AQUASCAPE ECOSYSTEM PONDS
WATERSCAPES PONDLESS DESIGN
AUSTRALIA'S FIRST PUBLIC RECREATION LAKE
AQUASCAPE ECOSYSTEM POND KITS
WATER FEATURES FOR SUMMER