WORLD'S LARGEST INDOOR WATERFALL
22 Jun 2017
Construction on Singapore's Changi Airport extension is currently underway, including the erection of a 40m-tall waterfall that will become the "world's largest indoor waterfall". Too much? You decide.
Designed by Safdie Architects, the glass, spherical "air hub" that stands at the centre of Singapore's Changi Airport extension is a jewelled biodome that represents a "new paradigm for international airports". Designed to increase the stopover appeal of the world's sixth busiest airport and become a destination venue for travellers and local residents, the extension is an ambitious project.
"This project redefines and reinvents what airports are all about," said architect Moshe Safdie. "Our goal was to bring together the duality of a vibrant marketplace and a great urban park side-by-side in a singular and immersive experience. The component of the traditional mall is combined with the experience of nature, culture, education, and recreation, aiming to provide an uplifting experience. By drawing both visitors and local residents alike, we aim to create a place where the people of Singapore interact with the people of the world."
The airport's glass dome includes 134,000sqm of retail, dining and entertainment space. The varied areas of the airport will be connected via multi-level gardens and pathways to form an area known as Forest Valley. The centre of the extension will host the crown of the development, the Rain Vortex. The Rain Vortex consists of a 40metre-tall indoor waterfall that is fed by recycled rainwater and cascades from the dome's oculus.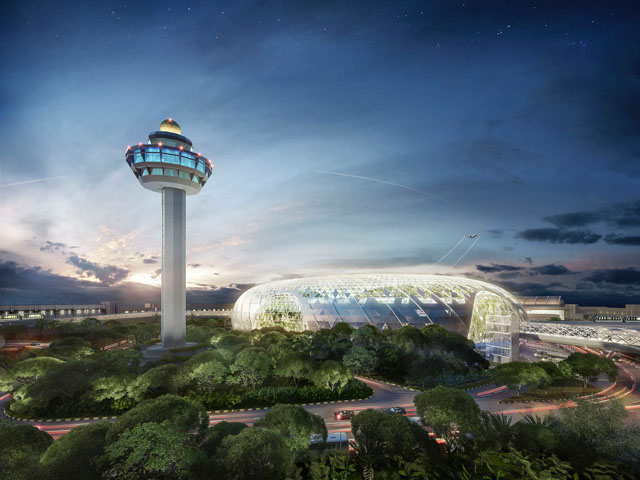 A canopy park will sit at the apex of the dome's upper level, a gathering space designed in conjunction with PWP Landscape Architecture. The Canopy Park roof garden will be edged by tree-like structural columns that provide structural support for the dome.
The Rain Vortex was designed by water design firm WET, whose commissions include the Bellagio fountains and Burj Khalifa.
The Jewel Changi Airport extension is expected to be completed in early 2019.
SEARCH
SUBSCRIBE TO ENEWS
MORE NEWS
WATER FEATURES FOR A LUSH OASIS
AUSTRALIA'S FIRST PUBLIC RECREATION LAKE
AQUASCAPE ECOSYSTEM POND KITS
PONDLESS WATERFALLS
WATER FEATURES FOR SUMMER
AQUASCAPE ECOSYSTEM PONDS