CONTEMPORARY WATER FEATURES
25 Nov 2015
Designer Water Features offer a range of contemporary designer products to enhance any indoor or outdoor space in the domestic or commercial market.
Designer Water Features' mission is to provide trade and retail customers with high quality designer landscape and building products at a competitive price.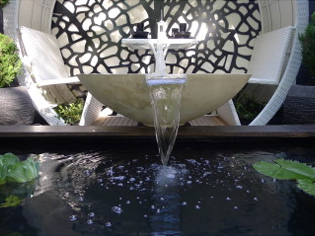 Imagine the seductive shimmer of water as it makes its way down a copper wall, a water fountain spilling over an architectural stone bowl into a pebbled filled pond, or maybe a walk through a copper rain shower feature to cool you off on a warm summer's day.
Designer Water Features believe customers are constantly looking for new products and something uniquely different for the design market. Our water features are not your traditional tiered fountain or urn style designs; our product range of architectural bowls, pots, stands and wall features are contemporarily designed to enhance today's indoor and outdoor living spaces.
We are excited to be the sole NSW stockist of Water Features Direct products, a Melbourne based company specialising in contemporary, hand-crafted water features. Our award winning water features have been featured on several series of 'The Block' and in publications including Outdoor Design & Living, Backyard & Garden Design, Open Garden Australia, Splash, Outdoor Entertaining and Outdoor Rooms magazines.
Designer Water Features also sell a wide range of building and landscape products including natural stone, decorative screens, bricks, concrete blocks and pavers. We have an extensive network of wholesale suppliers developed over many decades in the industry. Our low overheads enable us to offer competitive prices for the wholesale and retail markets, without compromising on quality.
See our exciting new range of water features on display at Unit 4, 181-187 Taren Point
Road Caringbah (opposite McDonalds) or visit our website www.designerwaterfeatures.com.au
For more information contact Geoff on 0434 744 978 or 02 8544 3126
Bottom image: Mister Zen Cafe, The Block, VIC.
SEARCH
SUBSCRIBE TO ENEWS
MORE NEWS
AUSTRALIA'S FIRST PUBLIC RECREATION LAKE
WATER FEATURES FOR SUMMER
WATER FEATURES FOR A LUSH OASIS
AQUASCAPE ECOSYSTEM POND KITS
AQUASCAPE ECOSYSTEM PONDS
PONDLESS WATERFALLS