THE EYE AT THE CENTRE
29 Jun 2016
A mirrored auditorium at the eye of the new Tianjin library, currently under construction in China as part of the Binhai Cultural Centre, connects adjacent parklands to the growing cultural district.
A library designed by Dutch firm MVRDV is nearing completion in the Chinese city of Tianjin. The 34,200sqm building forms part of the new Binhai cultural centre, a masterplan designed by German architects GMP. The structure joins four other buildings on the site via a series of 'cultural corridors'.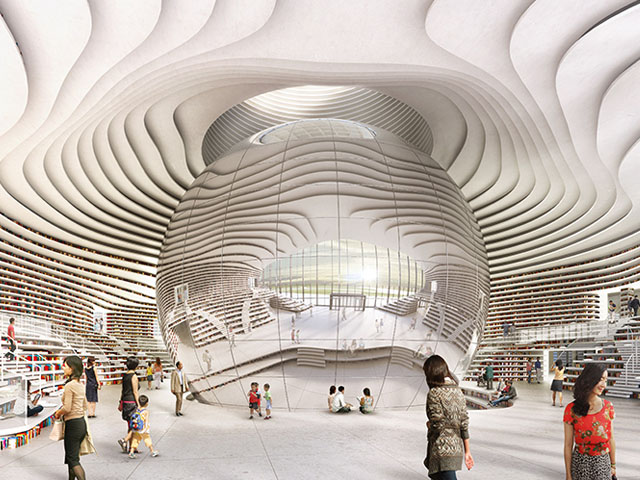 The library is articulated around a mirrored spherical auditorium, which — alongside the main atrium — offers views of both the interior space and the adjacent park in front of the building. The form of the terraced bookshelves echoes the shape of the sphere throughout the atrium, creating an interior, topographical landscape.
Alongside the Tianjin urban planning and design institute (TUPDI), MVRDV has designed the library as part of a larger plan to provide the city with a new cultural district. The building acts not only as an educational facility, but also as an important connection between the park and the cultural district.
"The eye is the center of the library. It 'hollows out' the building and creates, out of bookshelves, an environment to sit, to read, to hang out, to climb and to access, to create an organic social space," explains MVRDV co-founder Winy Maas. "In its heart is the auditorium which mirrors the environment, giving a 360 degree panorama of the space inside; a truly reflective and pensive environment."
The library sits within a sheltered gallery, topped with cathedral-like vaulted arches, which wind their way throughout the scheme. The building's five levels contain an extensive program of educational facilities, while the subterranean level offers service spaces, book storage and a large archive. The ground floor provides easy access reading areas for children and the elderly. The first and second storeys consist primarily of reading rooms, books and lounge areas, with the top two floors housing meeting rooms, offices, and computer and audio rooms.
Tianjin library is part of GMP's 120,000sqm masterplan which aims to "accentuate the characteristics of the surrounding districts". Through its design, the complex seeks to become a meeting point for the CBD, old town, residential districts, commercial areas, and the city's government quarter.
The project has been designed for Tianjin Binhai district and is scheduled to open to the public in mid-2017.
SEARCH
SUBSCRIBE TO ENEWS
MORE NEWS
CREATING INCLUSIVE PLAYSPACES WITH SIDE-BY-SLIDE™
PREHISTORIC PLAY
COASTAL PLAY WORTH THE CLIMB
INCLUSIVE PLAY AT TRESILLIAN PARK
REACH FOR THE SKY WITH AIR JUMPERS™
A TON OF FUN WITH PROSLIDE'S MAMMOTHBLAST