STRAIGHT TO THE TOP
20 Jun 2017
A spiralling timber treetop walkway that peaks at 45m in height is the centrepiece for a new public space that offers 360-degree views over the forest canopy of Haslev in Denmark.
Architecture studio EFFEKT has released their plans for a 600-metre-long treetop walkway through the forest of Haslev. Connected to an observation tower, the timber walkway spirals from the ground up to the peak where visitors can take in the 360-degree views across the top of the forest canopy.
Commissioned for Camp Adventure – a treetop adventure park located one hour south of Copenhagen – the continuous timber ramp winds up through the forests of Glisselfeld Kloster and provides a unique connection to nature.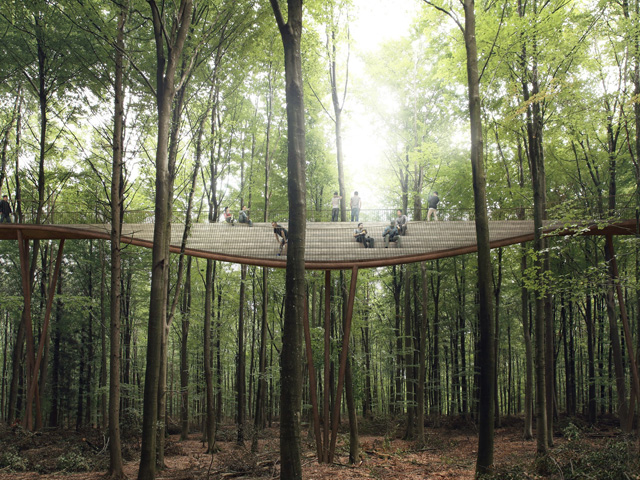 The structure is shaped like an hourglass that culminates at the 45m observation tower, which is surrounded by a lattice of Corten steel. The lattice framework provides structural support that also blends in with the surrounding natural landscape, due to its 'rusty' look. Additional structural support is also provided by the flared base and crown of the tower, and at the same time extends visitor contact into the forest canopy.
Passing over a split-level bridge into the tower, the pedestrian path will rise from ground level, wrapping internally within the framework up and around the first ramp before levelling out to an elevated path through the forest canopy and continuing to spiral up the tower – rising 13 tiers to the top!
The walkway will be split into two sections, with the higher path passing through the older sections of the forest, while the lower path will be level with the younger saplings and trees.
At the summit, visitors will arrive at the observation tower that spreads out at the top where the 360-degree viewing platform sits way above the forest canopy.
The continuous ramp will be fully accessible and include unique design features such as bleacher-style seating, an aviary, and looping pathways and bridges to create a varied viewing experience for users.
The treetop experience will be the most recent addition to Camp Adventure's existing sports facilities, which include treetop climbing paths and aerial zip lines that reach up to 25m in height.
The area of Glisselfeld Klosters Skove is characterised by a hilly landscape that is rare in the notoriously flat region of Denmark. Dotted with lakes, creeks and areas of wetlands, the region is popular among tourists and natives alike.
SEARCH
SUBSCRIBE TO ENEWS
MORE NEWS
PARK WARRIOR COURSES ARE SPRINGING UP ACROSS AUSTRALIA!
PROLUDIC JOINS AILA
SOFTFALL TESTING PARTNERS WITH PLAYGROUND123
NATURE-BASED PLAY
BRINGING TOGETHER THE BEST IN LOCAL DESIGN
CREATING A SPACE FOR EVERYONE TO ENJOY