SPHERES IN SEATTLE
08 Feb 2018
Amazon's latest corporate office building, The Spheres in Seattle, features 40,000 plants, organic architecture inspired by botanical design, and a "biophilic" environment for both Amazon employees and the general public.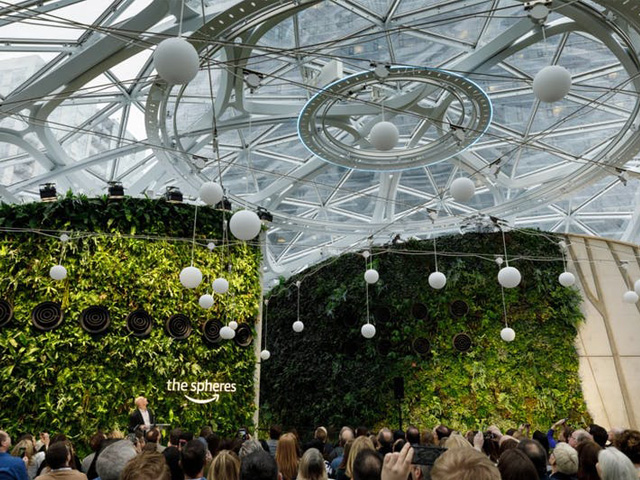 Inspired by the biodomes of the past as well as studies showing that spaces with increased connections to nature inspire more creativity and increased brain function — or combat what National Geographic calls "nature-deficit disorder". The Spheres comprises three connecting, five-storey geodesic domes that will house hundreds of Amazon employees plus a Discovery centre on the ground floor, called "The Understory", which will be open to the public for tours and educational programming.
Seven years in the making, The Spheres is the brainchild of John Schoettler, Vice President of Global Real Estate and Facilities for Amazon, who began scoping out Seattle's Denny Triangle neighbourhood in 2011 for his vision of creating "a unique gathering place where employees could collaborate and innovate together, and where the Seattle community could gather to experience biodiversity in the centre of the city."
The Amazon blog announced:
The Spheres are filled with more than 40,000 individual plants; there are more than 300 plant species from more than 50 countries and almost every continent, each with an interesting story to tell. They all provide something that is missing from a typical office space, a direct link to nature. Treehouse meeting rooms, river and waterfall features, palladiums, a four-story living wall, and epiphytic trees are just some of the unique features within this one-of-a-kind space.
Amazon even has its own horticultural team to execute on the vision. The Spheres was designed with over 4000 feet of vertical growing space, including a four-storey living wall. There are no cubicles, enclosed offices, conference spaces, or desks, so employees have to get up and walk around, taking in the rare plant species and natural light coming through the entirely glass-walled structure —based on organic design, and built by Seattle architecture and design firm NBBJ.
According to a press release, The Spheres was designed so that plants, trees, sunlight, soil, and water take centre-stage in both the workplace and public areas. the sound of running water and the scent of flowering plants create an instant botanical immersion that takes visitors far away from the urban landscape. There are even live fish and other wildlife in residence.
"In an urban core, to have that ability to lose yourself in a little bit of nature, it's important. And it can have a great impact," says Amazon horticulturalist Ben Eiben.
One of the trickiest parts about pulling together the natural paradise, Amazon lead horticulturalist Ron Gagliardo told Bloomberg, was transporting a 17-metre-tall tree nicknamed Rubi (short for Ficus Rubiginosa) from a Southern California farm to downtown Seattle, where it was hoisted by crane and dropped through a hole in the roof. The tree was planted at a California tree farm in 1969 and now weighs almost 36,000 pounds.
The $4 billion project purportedly created more than 600 full-time jobs and can house up to 800 "Amazonians" at a time. Employees of the retail giant will reserve open available daily slots and meeting spaces to work at The Spheres — much like a coworking space operates — and Business Insider reports that those spots are already booked through April. The Spheres will also provide educational opportunities to the Seattle community through tours, field trips, and partnerships with local schools and universities.
"The most delightful design feature of Amazon's Spheres goes far beyond bringing natural beauty into Seattle's urban core," said Toby Bradshaw, Professor and Chair of the University of Washington Department of Biology. "The use of plant biodiversity — including the 'weird' and 'ugly' specimens — to tell the story of interconnections among living things will be an inspiration to all who visit and work at The Spheres."
SEARCH
SUBSCRIBE TO ENEWS
MORE NEWS
SOLAR FLOWER POWER
RECYCLED BIKE PATH
GROWING SUSTAINABLE INFRASTRUCTURE
A RUSH OPERATION
URBAN FOREST GROWS
GREENHOUSE OF THE FUTURE