SENIORS THRIVE IN OUTDOOR GYMS
10 Aug 2016
While outdoor gyms continue to expand into parks across the country, the Seniors community is discovering the health benefits of utilising quality gym spaces to increase their flexibility and strength.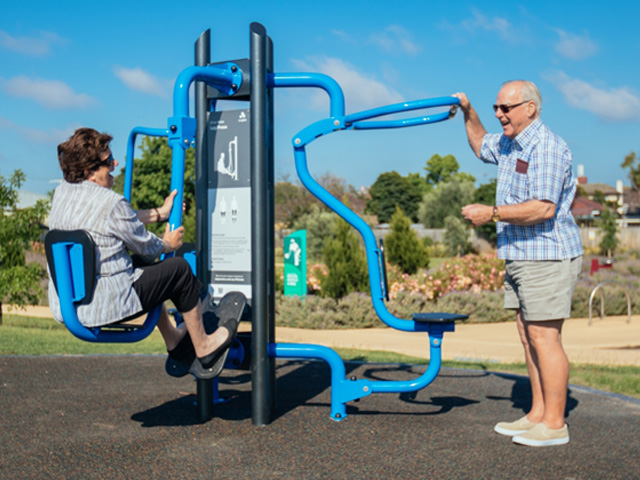 As the popularity of outdoor gyms continues to flourish, delivering greater wellness across all communities, it has been reported that Senior citizens are increasingly taking advantage of quality gym equipment to assist in maintaining and improving their health.
A recent segment on Channel 7's popular morning show Sunrise recently featured the health benefits that a_space outdoor gyms are providing for the Seniors' community.
The brief segment focused on a Seniors fitness group who regularly visit an a_space outdoor gym positioned along the bustling Maroubra Beach esplanade – proving that age is no barrier to improving your health.
In the segment, a_space Ambassador, Lauren Hannaford, describes how the locally manufactured a_space outdoor gym equipment addresses the needs of all age groups. She points out that the equipment is specifically designed to improve dexterity, flexibility and strength, which are essential to maintaining quality of life for older adults.
With more than 300 outdoor gyms installed across Australia, a_space has a wealth of experience to share. For advice or assistance in planning an outdoor gym for your community call a_space on 1800 632 222 or visit www.aspaceto.com.au
View the Sunrise segment below:
SEARCH
SUBSCRIBE TO ENEWS
MORE NEWS
THE NETHERLANDS' RING OF SWINGS
DIABOLO BABY® A GOOD DESIGN AWARD WINNER
IMMERSIVE EXPERIENCE AT THE SECRET GARDEN PLAZA
PROLUDIC CELEBRATES 10 YEARS
WEST COFFS RESERVE A TASTY ADDITION
BREAKING FREE