SCULPTURES FOR SKATERS
29 Jul 2021
With the fifth year of the Creative Folkestone Triennial well underway, architecture firm Assemble has designed a series of sculptures for skaters to enjoy.
Each year the event invites various artists to design installations for the public of Folkstone to view and be a part of. This year, the event was titled The Plot, and had 25 artists in its line up. The 27 newly commissioned site-specific artworks from international contributors were assembled to also encourage visitors and residents alike to explore the rich history of the town, from its urban tales to long standing buildings.
Lewis Briggs, the Curator of the Creative Folkstone Triennial, said Assemble have leaned into the ideas behind The Plot to create a piece that has story and meaning, but also interaction and experience.
"The exhibition's theme is a universal one, prompting us to consider the relation between stories and material realities everywhere in the world. Everyone becomes aware at some point of the gap between our lived experience and what is narrated about it," he said.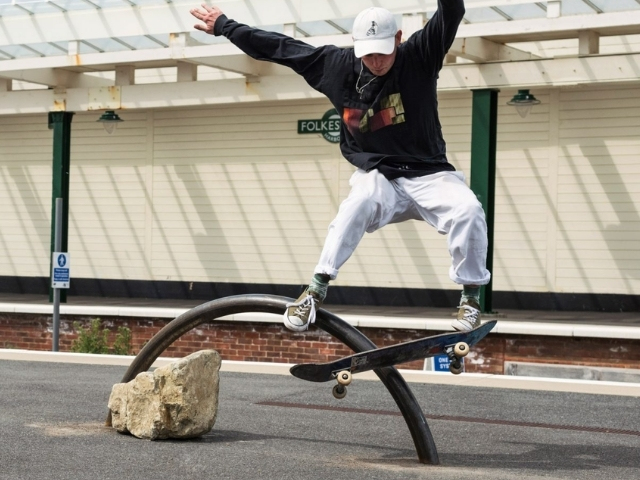 Assemble is a multidisciplinary architecture collective founded in 2010. The firm is responsible for a range of architectural wonders that have led them to becoming Turner Prize winners. For the exhibition, Assemble collaborated with local skateboarders to learn more about both the culture and story behind the sport. This led to the development of Skating Situations which has taken up residence in the Harbour Arm.
Assemble's new edition to the Triennial also considers the upcoming opening of Folkstone's Olympic standard indoor skate park, F51. The multi-storey skate park will complement the recent addition of the sport with its debut at the 2020 Tokyo Olympic Games, but will retain links to skateboarding grassroots origins.
Other notable installations include works from Atta Kwami and Christopher Houghton Budd. Kwami, born 1956, will be presenting three-dimensional artworks utilising abstract painting and a group of sculptures. Budd's piece has taken inspiration from traffic signs to find the true centre of the town using a circle of light.
The Creative Folkstone Triennial will be running from Thursday 22nd July to Tuesday 2nd of November 2021 for residents and visitors to explore.
Images via Dezeen
SEARCH
SUBSCRIBE TO ENEWS
MORE NEWS
SOFTFALL TESTING PARTNERS WITH PLAYGROUND123
PARK WARRIOR COURSES ARE SPRINGING UP ACROSS AUSTRALIA!
CREATING A SPACE FOR EVERYONE TO ENJOY
PROLUDIC JOINS AILA
BRINGING TOGETHER THE BEST IN LOCAL DESIGN
NATURE-BASED PLAY