PROLUDIC JOINS AILA
16 Sep 2021
Proludic are excited to announce their support of the Australian Institute of Landscape Architects (AILA) as a National Supporting Corporate Partner.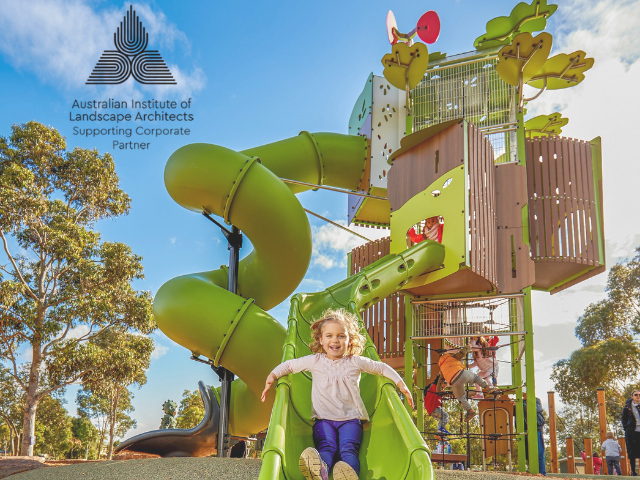 "Joining AILA's corporate partnership program means we have the opportunity to demonstrate to members how we can support them and add real value to their projects" explains Steve Walding, Proludic Australia's Managing Director. "We have a whole team of people – many of them qualified landscape architects – who can help on all aspects of a playspace project. From design specifications and tendering, right through to construction, installation and maintenance, we offer more than just 'swings and slides'."
Original designs – a perfect fit for Australian playspaces
"As a design-led company, we offer a huge catalogue of innovative and nature-themed designs, where each product range tells a story. Whether the range is themed, natural, urban or inclusive, our play and recreational equipment is original and 100 percent suited to the Australian environment" says Steve Walding.
A commitment to inclusive design
"At Proludic, inclusive design is fundamental. We've had a long-standing commitment to creating play equipment and playspaces that the whole community can enjoy. We feel it's important to provide resources for others to increase knowledge in this area – resources like our Inclusive Play Areas Guide, which was the first of its kind in Australia."
Endless play solutions that spark the imagination
"With the ability to custom design and manufacture bespoke equipment that people of all ages can enjoy, you can be sure we'll meet your project's vision."
Play equipment that's innovative, sustainable and durable
For landscape architects, collaborating with Proludic means you can fulfil your client's brief, knowing that the play equipment you choose is resilient, safe and sustainably produced. Proludic offer ready access to their products and spare parts held in their Sydney warehouse, on-time, professional delivery and installation, and industry-leading warranties.
An in-depth knowledge of Australian playground design standards
"Because we know playground standards inside out, we can help designers navigate the complexities of Australian playground design standards," explains Steve Walding. This helps create safer playgrounds for kids of all ages and abilities.
"Working with us means not having to start 'from scratch'. We collaborate with landscape architects to design customised playspaces, helping to interpret their vision and construct original design solutions. By using our specialist knowledge, projects can often move forward more quickly."
Proludic look forward to strengthening relationships with more AILA members.
Get in touch with Proludic via the links below to find out how they can help interpret your vision for playspace design solutions.
SEARCH
SUBSCRIBE TO ENEWS
MORE NEWS
AIM TO INSPIRE WITH AUSTEK PLAY
A REGIONAL SUCCESS
CLIMB HIGH WITH OMNITECH TOWERS
KLIX – THE FUTURE OF RECREATION EQUIPMENT
ONE-OF-A-KIND OUTDOOR GYM
DURABLE AUSTRALIAN PLAY EQUIPMENT