ONE MAN'S TRASH
22 Aug 2016
Spanning what was once one of the world's largest landfills, this sprawling bridge design constructed of shipping containers could be the answer to reviving this national park in Israel.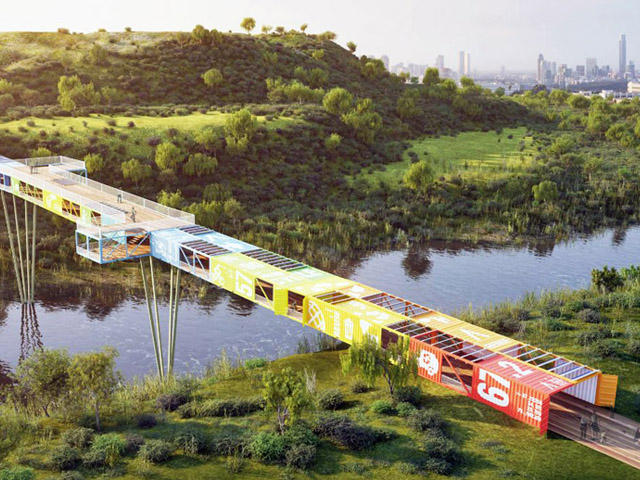 Tel-Aviv based Yoav Messer Architects recently unveiled plans for a sprawling 525-foot-long bridge made from recycled shipping containers! The project won a competition to build a gateway into Ariel Sharon National Park, a park designed to rehabilitate one of the world's largest and most notorious landfills. If built it will provide access for pedestrians, bicycles and small shuttle buses.
The architects were inspired by the design of the Ariel Sharon National Park itself, which is a super ambitious project to turn one of the world's largest garbage dumps into a flourishing green space. The reuse of shipping containers makes perfect sense, as an estimated 800,000 containers are abandoned by the maritime services each year. The use of containers will also save on production, costs and construction time, and the modular units are flexible enough to adapt to any changes required.
Yoav Messer Architects' Econtainer Bridge is made of a continuous line of containers punctuated by balconies that provide space to stop, take a rest and enjoy the gorgeous views on each side. The bridge is set upon four columns, minimising its impact on the ground. A great (re)use for shipping containers that we haven't seen before, the Econtainer Bridge will provide access to the park while serving as a destination in its own right.
SEARCH
SUBSCRIBE TO ENEWS
MORE NEWS
AUSTEK PLAY BRINGS THE FUN WITH NEW UNSTRUCTURED PLAY
INCLUSIVE NATURE PLAY FROM TIMBER CREATIONS
READY TO CONSTRUCT SPLASHPARKS FROM PLAYSCAPE CREATIONS
GYRO MULTIDIRECTIONAL SWING FROM ADVENTURE+
PRIVATE SKATEBOARDING FROM NB2
WATERPLAY FROM MARCUS CONSTRUCTIONS