OMNITECH'S LARGEST CUSTOM PROJECT TO DATE
10 Jun 2021
Over the last 12 months Omnitech has been working alongside Tract Consultants to design its largest custom project to date.
The project is for a new estate in the suburb of Mambourin, which is managed by Frasers Property Group. Omnitech also worked with the ULS group who undertook all other installations related to the play space.
Omnitech designed and constructed two large custom towers for the new estate. Both towers have a height range of four to six meters, making these two of the largest towers Omnitech have ever designed, manufactured and installed. The towers consist of multiple viewing platforms and range of play elements. Both towers have some exciting and challenging rope play, including a completely custom rope tunnel over four meters high that connects two towers. Both towers pose a range of different play activities including a 20m custom flying fox that is connected to one of the towers.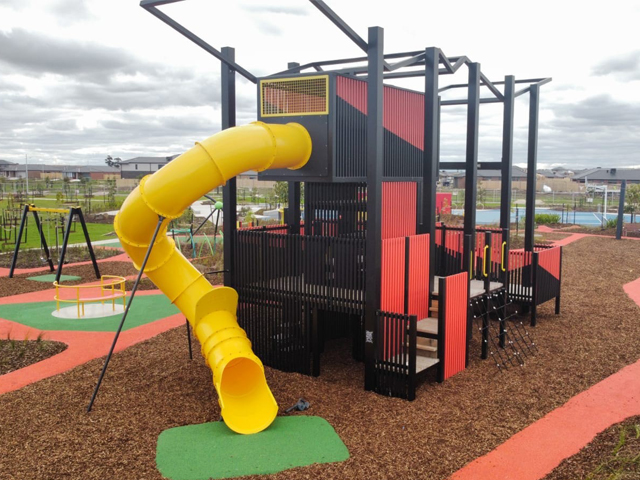 Omnitech also designed a game that involves children finding the wooden Australian native animals scattered within each tower and then matching them with their English and Indigenous name. The game is both entertaining and educational for kids to play.
Omnitech's team of industrial designers, designed both towers to meet the Australian playground standards while still making sure that the original vision that Tract Consultants had was not lost.
Both towers were manufactured out of Omnitech's factory in Somerton, Victoria. Including the welding, rope, timber and much more! All timber was hand painted and then constructed on site by inhouse carpenters. All materials were sourced within Australia, proving that Omnitech is a totally sustainably Australian-made company.
We are incredibly proud on the completion of this custom project and that it is entirely Australian-made. The images really speak for themselves and we can't wait to see both towers filled with children enjoying their wonderful new play space.
For any enquires please contact Omnitech via the links below.
SEARCH
SUBSCRIBE TO ENEWS
MORE NEWS
INTRODUCING KA'YOP ENCHANTED TREES
A_SPACE LAUNCHES SPIRE TOWERS!
NEXT-LEVEL PLAY
BLEND IN AND BOUNCE SAFELY
WINTER IS COMING, AND SO IS THE LATEST EDITION OF THE PLA JOURNAL
WORLD-CLASS WATER PARKS