OMNITECH PLAYGROUNDS
20 Mar 2012
Omnitech is now the exclusive Australian distributor of HAGS playgrounds including Nexux and more.
Omnitech is now the exclusive Australian distributor of HAGS playgrounds, including the Nexux, Agito, UniPlay, and UniPlay Mini ranges, as well as freestanding playground equipment and giant towers. In addition to this internationally recognised brand, it is still producing Australian-designed and -manufactured systems which, for more than 20 years, have set the benchmark for quality and durability.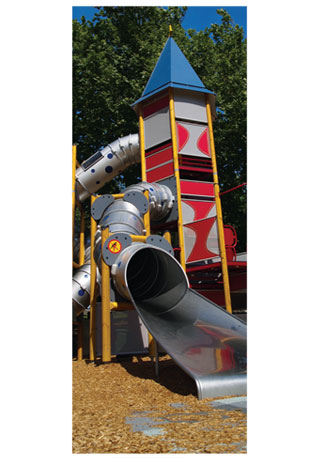 Providing a complete playground solution from design through to installation and maintenance, Omnitech offers safety inspections, refurbishments and repair services, as well as the widest selection of spare parts. It is constantly developing challenging and exciting new equipment, too, so check the website regularly for the latest in Australian-made playgrounds.
Omnitech's products and services include a full range of HAGS playgrounds, the Australian-designed and -manufactured Extreme range, rope net climbers and playgrounds, soft fall mulch and wetpour rubber surfaces, playground design and professional installation. That's not to mention safety inspections, spare parts and repairs, refurbishments, outdoor furniture, gates, fencing and metal fabrication. All equipment meets Australian standards.
The company's recent projects include Royal Children's Hospital Melbourne (Victoria), Coburg Lake (Coburg, Victoria), Judd Park (Merrigum, Shepparton, Victoria), The Strand (Townsville, Qld) and Marjorie York Park (Lane Cove, NSW).
Omnitech services Australia-wide.
SEARCH
SUBSCRIBE TO ENEWS
MORE NEWS
KLIX – THE FUTURE OF RECREATION EQUIPMENT
ONE-OF-A-KIND OUTDOOR GYM
AIM TO INSPIRE WITH AUSTEK PLAY
A REGIONAL SUCCESS
DURABLE AUSTRALIAN PLAY EQUIPMENT
CLIMB HIGH WITH OMNITECH TOWERS