NEW 'PLAY HOTEL' STRUCTURE
30 Nov 2017
Imagination Play has just launched the new Play Hotel to their range of playground structures. This modular unit can be custom designed in all shapes and sizes to meet project requirements.
The design of the Play Hotel from Imagination Play is based on stackable lego-style blocks. A transparent and stackable 'container' full of climbing, creeping, sneaking, hanging, swinging, sliding and relaxing possibilities. Each block contains different play values. Children can relax in one block or climb or play interactive games in another block. The Play Hotel also has 'laughing mirrors' that will keep children entertained for hours.
The Play Hotel is packed with multiple play values and consists of several floors. These are built up to accommodate different age brackets. Little ones can play on the ground floor while older children can play on the upper floors. The higher the floor the more adventurous the play values!
Another advantage of the 'stackable playground' is that it can be built-up on smaller surfaces if space is limited or it can be spread over a large space for a more vast play zone.
In addition, because the Play Hotel is modular, it allows the modules to be moved easily and quickly (within a day) to another location, making this play equipment very flexible.
The Play Hotel can be customised to suit all spaces. Blocks are available in two dimensions to allow for increased flexibility in design and number of floors created. The Play Hotel modules are trimmed with firmly fixed nets, wooden trellis and stainless steel panels to ensure play safety, and, because of the transparent design, parents and guardians can monitor children while they play.
Imagination Play's new Play Hotel is ideal for holiday parks, childcare centres, amusement parks, restaurants, public reserves, town centres and shopping centres.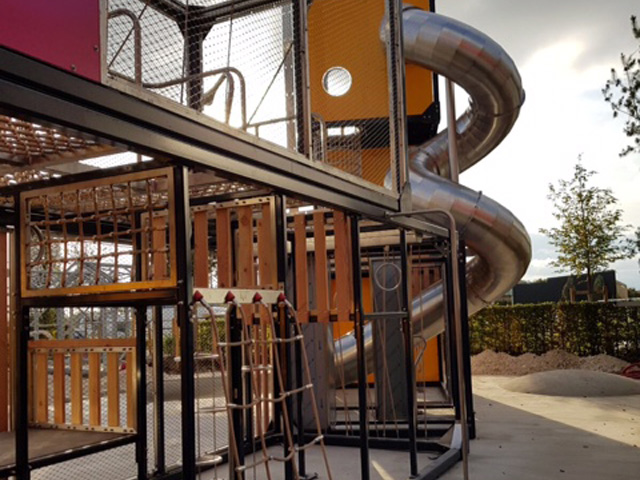 For more information on the Play Hotel contact the team at Imagination Play to discuss your playspace needs.
SEARCH
SUBSCRIBE TO ENEWS
MORE NEWS
THE SOCIAL VALUE OF PUBLIC SPACES
CYCLING IN THE NETHERLANDS
CEMETERY WITH A DIFFERENCE
VIVA LA PLAY
AN INCLUSIVE PLAY PARTNERSHIP
KOMPAN OUTFITS QUEENSLAND'S LARGEST PLAYGROUND