NATURAL TIMBER FOR BIG BENEFITS
08 Aug 2019
Timber Creations has long held the belief that there is a positive correlation between nature, quality play and child development – an ethos that is at the heart of every piece of natural play equipment the company produces.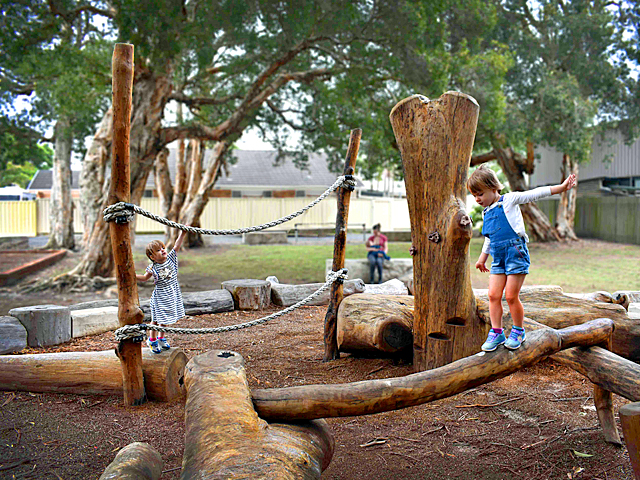 Andrew Smith Timber Creations has spent years working with children, designers and safety auditors to find the best blend of natural and safe – creating quality playgrounds that speak to children's inborn interest in nature and exploration, with each unique play element tested by locals.
The experts at Timber Creations find special pieces of reclaimed timber that spark a sense of wonder, highlighting the natural features that intrigue children and appeal to their senses. Engaging children in natural elements has been shown in multiple studies to have far-reaching benefits, leading to increases in attention span and focus, reduction in stress levels, and positive physical and emotional wellbeing.
There are many unexpected ways natural timber elements can benefit children.
INTERESTING AND UNPREDICTABLE SHAPES DEVELOP CREATIVITY AND PROBLEM-SOLVING SKILLS
Unique and natural shapes create unusual obstacles that have children constantly assessing and reassessing the risks, as well as experimenting with alternate ways to use the play elements. Experimentation is essential to developing creativity and problem-solving skills, but often children do not get a chance to experiment with repetitive, overly prescriptive play equipment.
Uneven natural surfaces help develop both fine and gross motor skills, which is especially important for children living in the city. The risk of children becoming more accident-prone and developmentally restricted from navigating only flat footpaths, smooth floors and perfect plastic play equipment is an increasing concern.
Uneven textures and shapes help children develop joint articulation, balance and coordination. In this way, natural play equipment and surfaces help both fine and gross motor skill development by requiring children to adapt to change while maintaining balance over varying levels of difference.
NON-PRESCRIPTIVE PLAY EQUIPMENT ENCOURAGES INDEPENDENCE AND AUTONOMY
Getting outside and experimenting with natural play provides opportunities for children to explore their own abilities and decision-making, creating independent learners.
It is developmentally valuable for children to have this ownership over their own play, enabled them to follow through with their own ideas, which can be rewarding both in the moment and for long-term gratification.
NATURAL FEATURES HIGHLIGHTED IN PLAYSPACES EVOKE A SENSE OF MYSTERY AND PIQUE CURIOSITY
When children explore and find different ways to play, they create their own imaginative story. A natural hollow in the timber might be a cooking pot, a mailbox or a fairy hideout! Timber naturally provides nooks and crannies, levels and features to sit in, under or on, providing hiding places or climbing opportunities that are unique to each child.
How many ways can one child experience the same natural element?
Timber Creations carefully chooses unique timber pieces that are exciting and different, which highlight interesting natural features that spark curiosity and wonder. The hundreds of different ways children can play with the same piece has to be seen to be believed.
See for yourself the many natural playgrounds created by Timber Creations by visiting the website via the link below.
SEARCH
SUBSCRIBE TO ENEWS
MORE NEWS
INCLUSIVE PLAY AT TRESILLIAN PARK
A TON OF FUN WITH PROSLIDE'S MAMMOTHBLAST
PREHISTORIC PLAY
COASTAL PLAY WORTH THE CLIMB
CREATING INCLUSIVE PLAYSPACES WITH SIDE-BY-SLIDE™
REACH FOR THE SKY WITH AIR JUMPERS™