INSTANT SPACES CATALOGUE FROM PLAYSCAPE CREATIONS
09 Jun 2022
Playscape Creations has released its Instant Spaces catalogue. Featuring a range of high-quality playground equipment that is available for immediate delivery, meaning no long wait times for overseas delivery with supply chain issues.
Playscape Creations knows how hard it is to work around supply chain issues and long lead times since Covid-19. To reduce that pressure, the company has released Instant Spaces; a catalogue including high quality playground equipment available for immediate delivery so that perfect playspace can be created today!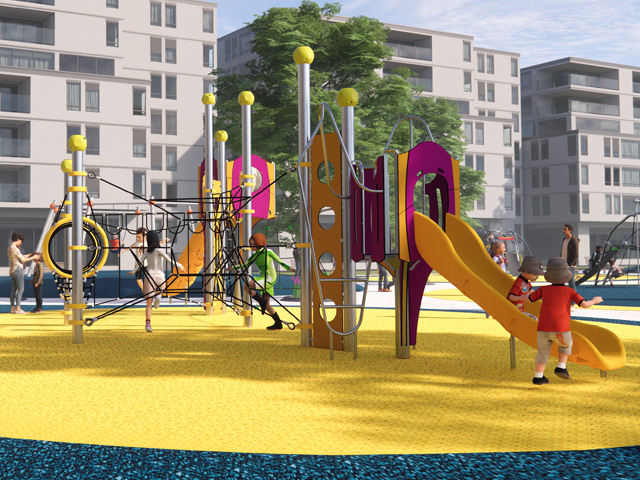 From play systems to swings, moving play to nature play and inclusive play elements, the team at Playscape Creations have what every project needs and is available now.
The helpful team can also take clients through a 2D design process, laying out equipment within a project space and making sure all elements fit and allow for the appropriate fall zones.
Once equipment is ordered, a full set of installation documentation will be provided to the client or a preferred installer. Then, delivery can be booked and equipment ready to assemble onsite when and where it's needed.
Warranties, parts and service availability are local for fast contact and turnaround, and the expert team at Playscape are always available for support when it is need.
DELIVERING PLAY VALUE
Systems are packed with play value; but not simply because they offer an incredible number of different play features. With non-prescribed entry and exit points and the ability to move any way they choose; children can use these play systems in an almost infinite number of ways.
As multi-level play pieces, Playscape Creations systems provide play opportunities for children of all ages and levels of daring. Active play experiences abound, Playscape systems are designed to build children's physical skills and confidence. Elevated viewpoints allow for reflection and a reintegration of each child into their unique worldview. Positive social interaction occurs as children encourage each other to climb higher, play cooperatively or to simply hangout.
These systems also add aesthetic appeal for all users of the designed space; from parents and carers to pedestrians and people passing by. The aesthetic appeal has the potential to attract and retain more users to the space, over-delivering on its original promise and investment.
SPECIAL OFFER
For a limited time only, Playscape clients can earn a free Foosball Table valued at $5,000 for their school or community space.
Simply order over $30k worth of equipment from the Playscape Creations Instant Spaces catalogue, and pay for the order before June 30th 2022. The first five orders meeting this criteria will have a quality concrete Foosball Table delivered to site with their equipment.
Playscape Creations go above and beyond not only in design but service. To view the Instant Spaces catalogue, click HERE.
To discover the complete range of products and projects from Playscape Creations, click the links below.
SEARCH
SUBSCRIBE TO ENEWS
MORE NEWS
RICHTER PLAYSPACE ARRIVES IN TASMANIA
PLAY AND FITNESS EQUIPMENT YOU CAN TRUST
WETPOUR RUBBER FLOORING AT WINTON WETLANDS
TAKE ON THE HIGH SEAS OF FUN WITH PROLUDIC
BOAT-THEMED PLAYGROUND BY THE RIVER
NATIVE PLAY