INSPIRED PLAY
05 Jun 2017
In a society obsessed with 'safety first', it can be all too easy to forget the magic that is the 'playground'. Danish company Monstrum – while not forgetting safety altogether – puts the magic back into play with these inspiring designs.
Founded in 2003, Monstrum makes incredibly creative and inspiring playgrounds, drawing from nature, culture, transportation, books and more. Their playgrounds encourage kids to use their imagination while moving their bodies, and promote open-ended exploration; there is no "right" way to approach the structures, which means kids can enjoy them again and again.
In each and every one of Monstrum's playgrounds, there are elements for climbing, sliding, balancing, observing, and basically every other activity you would want your child to have an opportunity to do while outside. Far from being too simplistic and babyish, these well-constructed and carefully designed and crafted structures present age-appropriate challenges that promote independence and confidence and are likely as appealing to parents as to kids.
With a keen eye on gently promoting learning through play, Monstrum turns playground spaces into interactive art. As if that weren't enough, the company shares 10% of their profits with a variety of social development causes, distributes another 10% of the profits among the members of the company, and uses FSC-certified, sustainably grown woods.
The playground at the Odense Zoo is, as to be expected, pretty wild. Kids can step into the mouth of a hungry lion and be transported to the African savannah. If they make it out in one piece they can climb up to the hut/lookout and then slide down one of two large slides to start playtime all over again. There are also giant blades of grass to manoeuvre and giant leaves to climb up.
In Gothenberg, Sweden, the Liseberg playground is crafted to include giant multilevel bird cages connected by bridges and featuring red nets that beg to be climbed, the airy structure is also flanked by two 60 foot slides!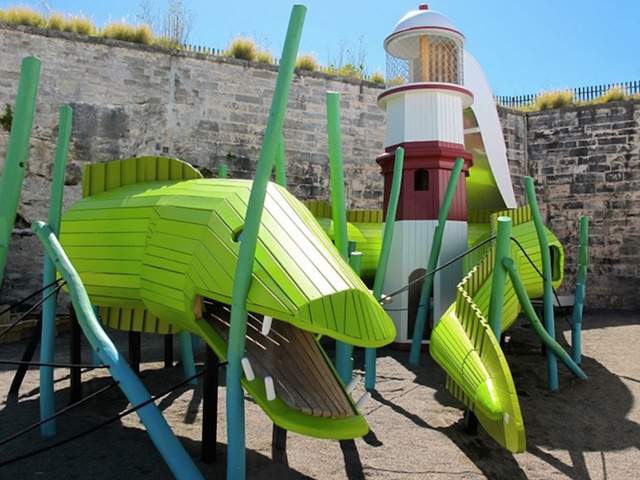 Built in Bermuda, the Eel and the Lighthouse playground features a replica of an actual landmark lighthouse located on Bermuda's St. David's Island. Entering the eel playspace is made easy through multiple points (including its mouth!). And escape is always possible through the lighthouse slide!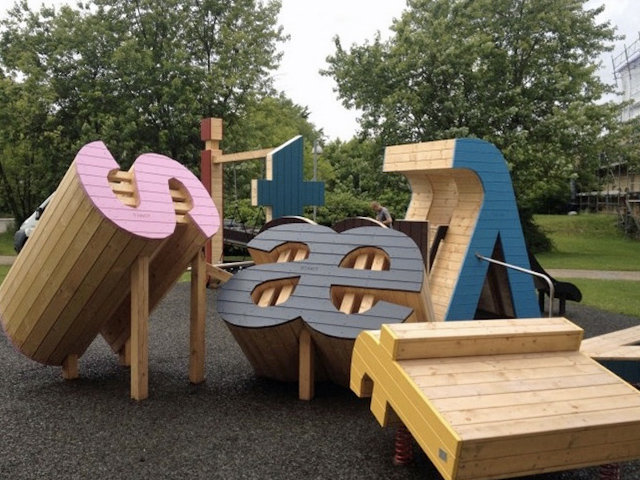 The alphabet playground may not be as grand or complex as some of their other structures, but Monstrum plays with oversized and colourful letters to turn them into a fun activity and climbing space in this fun-loving space. An upside down Y forms a playhouse, and all of the letters are at interesting and challenging angles for kids to climb, balance on, and explore. A few of the letters even bounce on springs! Appropriately, the alphabet garden is located next to a library.
Hmmm… which to do first: scooch inside the whale's ribs and into his belly, or use the hand and footholds to literally climb your way up the whale's side? Whichever way you choose, adventure awaits at the sperm whale playground in Denmark. Kiddos can admire and learn from the drawings depicting the whale's insides on the structure's interior while imagining what it would be like to actually be swallowed by a whale. For older kids, there's even a rope to swing across to safety, although anyone can also take the double slide off the side.
SEARCH
SUBSCRIBE TO ENEWS
MORE NEWS
BEAUTIFULLY UNIQUE, EYE CATCHING AND CHALLENGING
A SMALL PARK WITH A BIG IMPACT AT GOODGE COURT
A_SPACE PARTNERS WITH OA TO ENHANCE PARK WARRIOR ACTIVATION
MAKE A SPLASH AT AQUAPARK KYJOV
BONDED RUBBER MULCH FROM AUSTRALIAN SURFACING SUPPLIES
NATIVE AND INSTINCTIVE PLAY RANGES