INSPIRATIONAL DESIGNS TO KICKSTART YOUR PLAYSPACE
20 Jun 2019
KOMPAN has added another feature to their ever-expanding suite of design and visualisation tools and gadgets with the launch of more than 20 predesigned, themed play and recreation solutions in both digital and physical format.
The solutions portray some of KOMPAN's best-selling and most beloved products in a variety of realistic environments, incorporating a range of built and natural elements along with great examples of softfall and rubber patterns, shade, routing and wayfinding.
"Both our Australian and international Design & Visualisation teams are world class," says Marketing Specialist Jaydon Munn. "Clients of ours who have viewed the department's designs during projects are well aware of what they're capable of, and our renders and fly-throughs are frequently featured in the media and on local nightly news programs. However, this capability is really going to empower them to flex their collective creative muscle and allow us to show off their designs for all the world to see."
The Active Destination Area solution combines elements of playground equipment, fitness equipment, multi-use games areas and outdoor furniture to illustrate an integrated public space that has something for all ages. This design is indicative of a wider trend of intergenerational design. The catalyst for this is policymakers, researchers and NGOs placing an increasing emphasis on the role that public space has to play on improving health, and planners and designers gradually evolving their work accordingly. The design depicts the well-lit area being heavily used in the early evening; a beneficial practice for those looking to promote the night time activation of a space.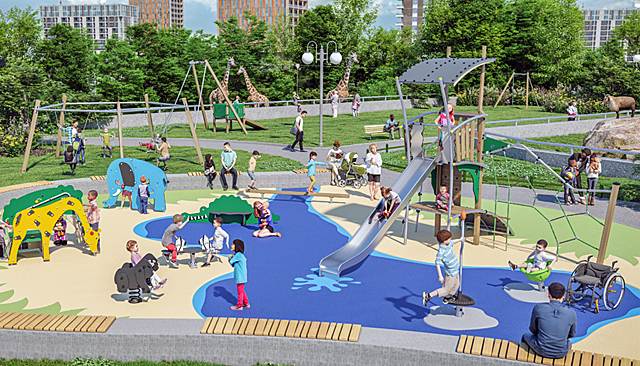 The Active Destination Area solution is a virtual example of the growing intergenerational design trend in urban planning and landscape architecture
The Pirate Bay is another spectacular design that shows how KOMPAN's Organic Robinia range can be employed to complement a natural setting. The winding shapes of Robinia wood and its raw aesthetic means that it accentuates environments where a natural look is the goal. The Pirate Bay features equipment from KOMPAN's Organic Robinia range, an ideal solution for those looking to create a nature play-style space.
Layout plans and equipment pricing for each themed solution is available on request by contacting your local KOMPAN play & fitness specialist.
You can view KOMPAN's themed solutions here.
SEARCH
SUBSCRIBE TO ENEWS
MORE NEWS
WINTON AQUATIC CENTRE – THE AQUATOWER
EXPLORING SENSORY PLAY
NET OF DREAMS
NEW HOME FOR THE GOLDEN STATE WARRIORS
NSW SCHOOLS EMBRACE NATURAL PLAY
TIME TO MAKE A SPLASH