I CAN FLY!
02 Apr 2014
Children of all abilities can now fly together in the playground thanks to the ultra-smooth, two-way ride ZipKrooz.
The Flying Fox takes on a whole new dimension with Landscape Structure's latest release – ZipKrooz.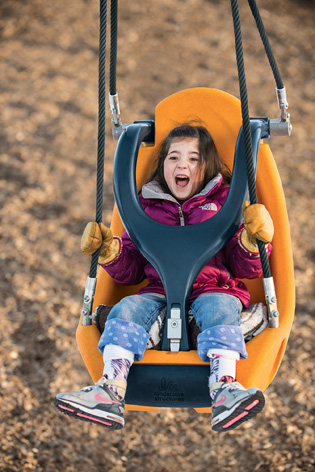 ZipKrooz is unique because it offers a continuous play experience that can soar back and forth, from one end to the other, with non-stop zooming action.
Bringing adventure to the playground in an exciting, ultra-smooth, two-way ride, ZipKrooz also enables children of all abilities to fly together.
As well as the standard pommel seat, ZipKrooz comes with a rotationally moulded bucket harness seat that offers stability and security for children with limited upper or lower body strength. Children can play side-by-side for a truly inclusive play experience, participate in co-operative play and stimulate their vestibular and proprioceptive senses - together.
ZipKrooz offers a more controlled ride for smoother cruising, without the jolting or stopping mid-glide. Built-in elevation helps riders gain momentum at the beginning then slow down at the end. And with its unique 4-wheel trolley system and comfortable seats, ZipKrooz is engineered for exceptional quality, comfort and safety.
ZipKrooz is available in varied lengths (10m, 15m and 20m) and can have additional bays for double, or even triple the fun. Other features include a decorative and functional fin on the track that discourages children from accessing the top, and black, rubber wrapped chain that holds the comfortable poly seat that accommodates children of all sizes.
Start zipping with ZipKrooz – the world's best inclusive ride for playgrounds.
SEARCH
SUBSCRIBE TO ENEWS
MORE NEWS
MARBLE ARCH HILL
NEW RECREATION CENTRE FOR SYDNEY
OUTDOOR LEARNING MADE COMFORTABLE
BENEFITS OF TRAVERTINE PAVERS
UN-HABITAT'S URBAN RESPONSE
WASTE NOT WANT NOT