GIANT TREEHOUSE TAKES PARK TO NEW HEIGHTS
23 Jul 2020
Featuring a range of exciting elements that will keep kids coming back time and time again, WillPlay's Giant Treehouse was chosen by Redland City Council as the focal point of a major development at Thornlands Community Park. Check it out.
WillPlay worked in conjunction with Laud Ink Architects and Landscape Solutions to develop this park in a fast-growing bayside estate.
Featuring elements for all ages and abilities, Thornlands Community Park has it all. WillPlay's Giant Treehouse is the key feature item with three large towers connected by fully enclosed rope bridges that lead to a custom Goliath Tower. Climbing, balancing, sliding and inter-generational play have all been designed into one very pretty unit that has all aspects of play covered.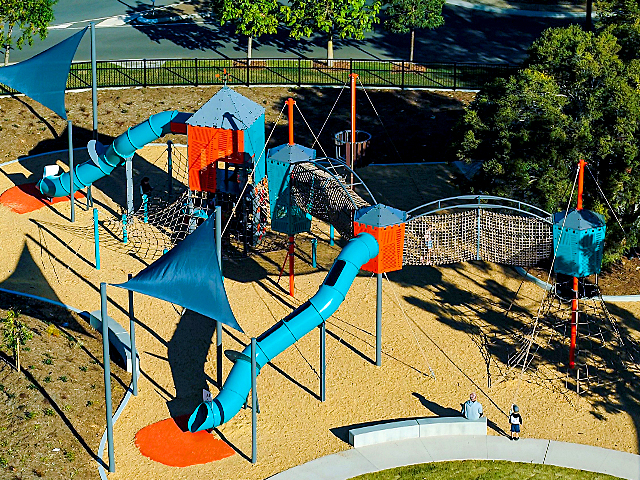 Always a favourite, the Double Cableway offers the ability for users to interact and race each other down the 25-metre-long cable run. Moving around the play area, everyone has been catered for with swings for toddlers, kids and adults, and a modified all-abilities swing seat.
The pre-coated SBR and EPDM softfall installed by Surfacing Contractors Australia incorporates great access for all users throughout the play area and ensures that users of all abilities can safely navigate through the entire space.
WillPlay's Sway Glider was customised to pay homage to the area's farmland history. The Sway Glider Tractor is fully accessible and offers the opportunity for multiple users, and is suitable for use by people of all abilities and ages. The tractor theme of the space looks fantastic.
All WillPlay items can be customised to complement your wildest ideas.
Exclusively using stainless steel and aluminium components, all WillPlay equipment is manufactured to full coastal specifications and is suitable for use in even the harshest coastal environments. WillPlay products also feature Australian-sourced recycled plastic panels and fittings, and every WillPlay system comes with a Lifetime guarantee.
Contact WillPlay or visit the website via the links below to find out more about bespoke playspaces that capture the hearts of Australia's communities.
SEARCH
SUBSCRIBE TO ENEWS
MORE NEWS
NATURAL TIMBER PLAY STRUCTURES
PLAY AND FITNESS EQUIPMENT YOU CAN TRUST
360-DEGREE NETTED TERRAIN PLAYSPACE
BOAT-THEMED PLAYGROUND BY THE RIVER
RICHTER PLAYSPACE ARRIVES IN TASMANIA
NATIVE PLAY