FOREST PLAYSPACE DELIGHTS KIDS OF ALL AGES
05 Oct 2016
The retail experience just got even better for families at Westfield Helensvale with the unveiling of a custom-designed, forest-themed, all-inclusive adventure playground by Urban Play.
Brisbane-based playground company Urban Play, in collaboration with the design team at Scentre Group, Eureka Landscapes, and Planout Landscape Architecture, has created a bespoke enchanted masterpiece at Westfield Helensvale that has kids begging their parents to go shopping!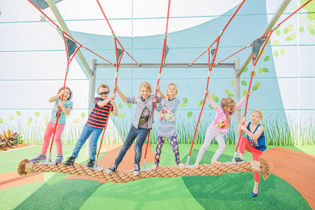 Upon walking into the Helensvale shopping centre, past the food court, shoppers are immersed in the new playground's forest theme and mesmerised by the all-inclusive play opportunities on offer for kids of all ages.
The Helensvale playground features 7m high forest cabins, custom created by Corocord, an enclosed rope canopy walk among the trees, and a curly slide set to inspire and challenge the older Tarzans and Janes.
Wee little explorers have the opportunity to climb the KOMPAN green lookouts or crawl within the custom COROCORD pink caterpillar in an age appropriate zone. If more speed, spinning, or swinging appeals more to their adventurous side, thrill-seekers can conquer the multispinner, seesaw or pendulum swings on offer.
The 'forest floor' is custom designed in rubber for safety by Urban Play. The floor is a work of art picked out in giant leaf patterns and integrated with lush synthetic turf. Creating active and passive play opportunities, children can leap from stepper to stepper, climb among the trees, crawl through ground covers, or search for hidden animals among the enchanted forest mural.
This adventure playground truly raises the bar for retail play destinations, making the experience one the whole family can enjoy.
Known for their product quality and service reliability, Urban Play is partners with well-known international play equipment brands KOMPAN and COROCORD in providing award-winning custom playground solutions.
To discuss the needs of your next playground project, contact Urban Play on 07 3256 0554 or visit www.urbanplay.com.au
SEARCH
SUBSCRIBE TO ENEWS
MORE NEWS
NATURAL TIMBER PLAY STRUCTURES
BOAT-THEMED PLAYGROUND BY THE RIVER
RICHTER PLAYSPACE ARRIVES IN TASMANIA
PLAY AND FITNESS EQUIPMENT YOU CAN TRUST
NATIVE PLAY
WETPOUR RUBBER FLOORING AT WINTON WETLANDS