EVERYONE CAN PLAY AT WAITARA PARK
20 Jun 2019
Proludic has once more established itself as a leading playground manufacturer with the opening of the latest inclusive playspace project, Waitara Park. As part of the Everyone Can Play government initiative, this playground includes a tower slide, inground trampolines, accessible carousel, inclusive swings and much more.
The construction and development of inclusive playgrounds have been booming in the NSW playground industry this year, thanks to the associated Everyone Can Play grant funding released by the Department of Planning & Environment. This fun and inclusive new playspace at Waitara Park received an Everyone Can Play grant of $600,000 towards the project.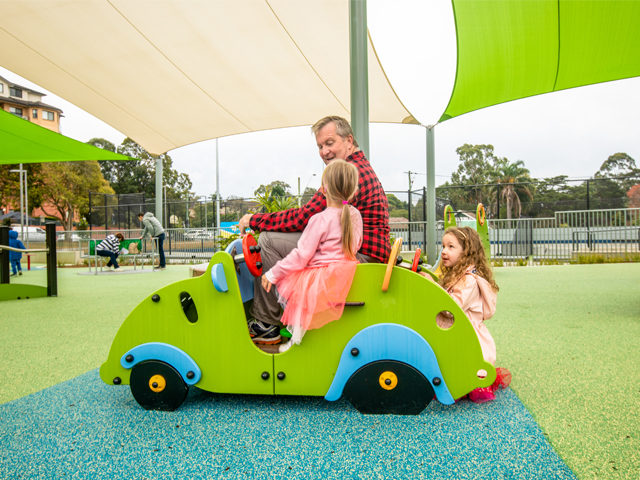 Proludic has always been dedicated to the provision of inclusive play equipment and sharing its expertise regarding the design of inclusive playgrounds. The team was able to focus on this aspect of their business more fully when Proludic's own Inclusive Play Areas Guide document achieved a Good Design Award Gold in 2016. Proludic's vision, therefore, aligns with the Department of Planning's provision of resources to assist with the development of inclusive playgrounds.
Located at the end of Waitara Park, the fenced playground is adjacent to the new tennis court and amenities facility as part of a major public spaces renovation for the area, and includes shade sails, picnic shelters and barbecues.
The playspace provides an extensive range of play equipment. The junior play area features Proludic's seven-metre-high Amazone Tower, a structure that takes inspiration from Mayan relics, with sacred mythical creatures that ignite the kids' imaginations, encouraging them to become mini explorers. The structure includes a giant tube slide, a kayak open slide, a fireman's pole, climbing challenges, manipulative play, roleplay and much more.
The junior play area includes two inclusive inground trampolines and a spinning and rocking Hip Hop, both of which combine motor skills and sensory stimulation for the kids, allowing them to have fun and explore their senses.
Adjacent to the junior area is the inclusive toddler's playspace. The main feature is Proludic's accessible Diabolo Multi-Play, which encourages the development of mobility, fine motor skills, cognitive recognition and sensory stimulation with a wide variety of activities. An access ramp and ground-based play ensures that all kids can access every exciting activity that is on offer, so that no one gets left out.
Additional inclusive equipment includes Sensory Flowers, the Big Twiny Car with access for children in wheelchairs at the rear, the Play Hut, the Rodeo Disc, the Twisty Rotating Disc, a Tiboo toddlers' slide, a two-bay swing set with Pod seat and inclusive seat, a swing set with four flat seats and an accessible carousel.
The playground also features stunning artwork from the local artists from Studio Artes – an art centre initiative for people with disabilities – alongside new garden beds and trees.
The adjacent tennis centre provides a kiosk and outdoor shaded area, providing a place for parents and carers to relax while staying close to their children. The installation of pathways and accessible safety surfacing was carefully considered to allow for safe and easy access throughout the playspace and to the play equipment. Multiple seating options and plenty of shade ensures a comfortable place for everyone to play and relax together.
"The upgrade of the Waitara Park Precinct was much-needed and the local and wider community can now enjoy an expanded and improved recreational space," said Hornsby Shire Mayor Philip Ruddock. "This inclusive playspace was carefully designed by Council with extensive consultation of the local community. The new playground looks fantastic and is exciting for kids of different ages and abilities to explore. We are truly proud of the results."
Contact Proludic today to find out how they can help create your next inclusive playspace.
SEARCH
SUBSCRIBE TO ENEWS
MORE NEWS
WEST COFFS RESERVE A TASTY ADDITION
DIABOLO BABY® A GOOD DESIGN AWARD WINNER
THE NETHERLANDS' RING OF SWINGS
PROLUDIC CELEBRATES 10 YEARS
IMMERSIVE EXPERIENCE AT THE SECRET GARDEN PLAZA
BREAKING FREE