DISCOVER ORGANIC ROBINIA
16 Mar 2016
KOMPAN's amazing new Organic Robinia range of play equipment is inspired by the organic shapes of nature itself, with all the uniqueness of the winding Robinia wood.
The KOMPAN team is excited to invite you to be among the first to experience their brand-new, nature-inspired range - Organic Robinia. The Organic Robinia range encourages interest in and develops a greater understanding of the role of nature in the lives of children.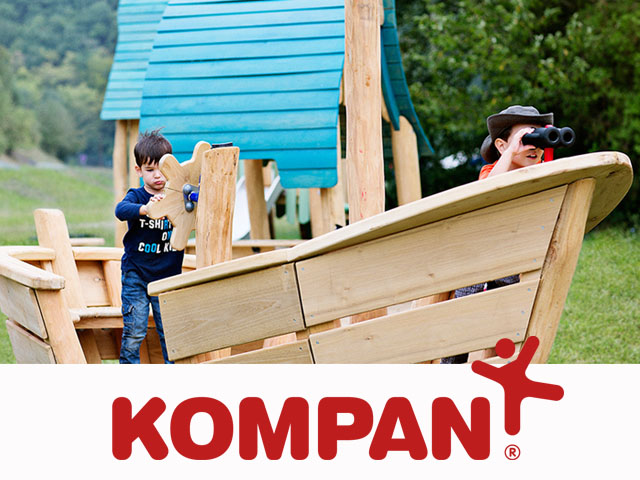 Constructed in KOMPAN's a world-class facility dedicated to the production of the Organic Robinia range, master woodworkers and craftsmen have produced awe inspiring works of art that ignite the imagination and provide endless play for generations, and meet all safety standards.
Made from FSC™ certified Robinia wood, it has a high content of naturally occurring preservatives, meaning it doesn't need to be treated for rot. The wood's dense composition also makes it resistant to splintering, humidity damage and water permeation. And its natural growth patterns and beautiful grain structure help to produce the organic forms that enhance the natural feel of this fun play range.
The Organic Robinia is an inclusive play range and is available in untreated, transparent brown pigment, or colour painted wood. The extensive range includes such fun structures as the Wizard's Hideway and the Forest Cottage, the Witches Tower, a Forest Lake Boat and so much more.
Everything you need to build a complete fantasy playground of natural features can be found in the Organic Robinia range – add a Dolphin Springer, a Spotted Lizard, or even an agility trail or Splash Table. The combinations are limitless, and even include a selection of seating and tables so parents and carers have somewhere to rest while the kids explore.
To visit the dedicated Organic Robinia webpage and watch the official video, browse the catalogue or select products CLICK HERE
SEARCH
SUBSCRIBE TO ENEWS
MORE NEWS
COMMUNITY PLAYGROUND HAS IT ALL
ONE-OF-A-KIND OBSTACLE COURSE
PROFESSIONAL SPORTPOINT AT THE UNIVERSITY OF QUEENSLAND
LOGAN GARDENS WATER PARK: AN ASSET FOR ALL
MOUNTAINS OF FUN
DISCOVER NEW LEVELS OF FUN WITH NUMAT