DARLING QUARTER WINS AWARD
16 Jul 2012
Kompan strikes gold in the heart of Darling Harbour, with the Darling Quarter precinct taking out the 2012 Australia Award for Urban Design.
Via Darling Quarter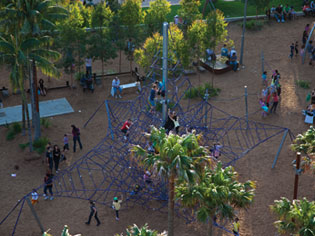 Sydney's Darling Quarter took out top honours at the 2012 Australian Award for Urban Design.
The announcement of Australia's most prestigious urban design award, the Australia Award for Urban Design, took place on June 26 as part of the Built Environment Meets Parliament (BEMP) dinner, held at the National Gallery of Australia in Canberra.
The Darling Quarter precinct received the major award of the night, the 2012 Australia Award for Urban Design. KOMPAN worked closely with Aspect Studios in creating a dynamic and vibrant inner-city precinct which caters for over 1.3 million visitors each year.
A testament to the planning of this monumental project which goes back some five years from initial inspiration, the Darling Quarter playground is "perhaps the most significant playground within the Sydney CBD" explain Sue Simpson, Managing Director KOMPAN. This destination precinct invites local families and tourists alike to relax in a beautifully landscaped environment in the heart of the city.
All aspects of play are to be found in the installation from the extreme challenge to conquer the colossal heights of COROCORD's custom-designed 10.45m Octa-net – this is the tallest system of its kind in Australia – through to the exhilarating cableway, swings of all dimensions to passive water play replicating systems of years gone by. Water play components such as Archimedes screw, water buckets and scoops are reproductions of actual working products used by our forefathers.
"The project involved overcoming many obstacles and challenges," added Sue, and it was through persistent collaboration with the entire team that ensured successful completion.
SEARCH
SUBSCRIBE TO ENEWS
MORE NEWS
OMNIWARRIOR IS HERE!
PROLUDIC JOINS AILA
BRINGING TOGETHER THE BEST IN LOCAL DESIGN
BALLS OF FUN AT NEW PLAYGROUND
CREATING A SPACE FOR EVERYONE TO ENJOY
SOFTFALL TESTING PARTNERS WITH PLAYGROUND123