CYCLING IN THE NETHERLANDS
18 Dec 2018
A 110m integrated cycle path traverses the centre of Leidsche Rijn in the Netherlands to provide citizens a means to safely and quickly cross the city and access public space.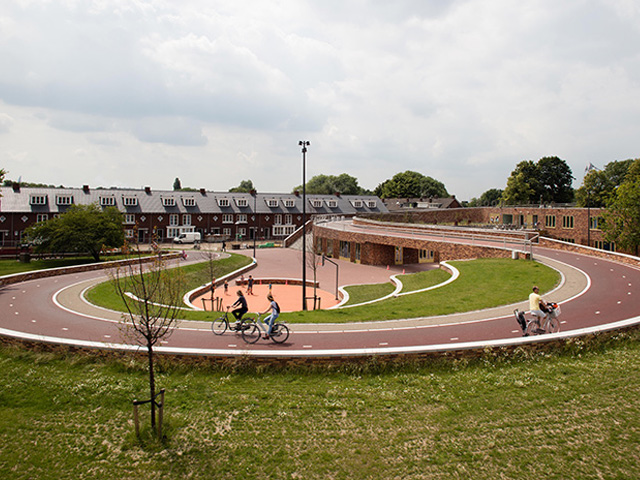 Opened to the public in 2017, the bridge structure was designed by NEXT Architects and Rudy Uytenhaak + Partners Architecten and combines a cycle and pedestrian crossing with a school and a public garden, forming a cohesive and integrated scheme. Named after Dutch athlete Dafne Schippers, the bridge was commissioned by the city of Utrecht and spans the Amsterdam-Rhine canal.
When cyclists make their way from the city centre to the new district of Leidsche Rijn, a long bend takes them upwards through the Victor Hugo Park, and around the roof garden of a school. "In one fluid movement, the cycle route, park, and school are brought together to form a cohesive whole of infrastructure, architecture, and landscape," says Marijn Schenk of NEXT architects, who designed the project alongside Rudy Uytenhaak + Partners Architecten in collaboration with Arup and Bureau B+B.
The structure measures 110m in length, with its deck suspended 9m above the water. The slim suspension bridge is hung between two asymmetric towers, which serve different functions on different sides of the canal. On the Leidsche Rijn side, the pylon becomes a landmark for the new district, while on the school side, a smaller pylon matches the scale of the adjacent trees.
It is estimated that on a daily basis, the bridge saves more than 7000 cyclists valuable time.
Images Jeroen Musch © NEXT Architects
SEARCH
SUBSCRIBE TO ENEWS
MORE NEWS
CHILDREN ENCOURAGED TO REACH THEIR ZENITH
PLA'S POSITION ON HEALTH & WELLBEING
TECHNICOLOUR COURT BRINGS COLOUR TO PARIS
PLA NATIONAL AWARDS FINALISTS
EVERYONE CAN PLAY AT WAITARA PARK
INSPIRATIONAL DESIGNS TO KICKSTART YOUR PLAYSPACE