COLOURFUL INSTALLATIONS A 'RUNAWAY' SUCCESS
04 May 2017
SPORTS has recently installed a series of vibrant metalwork installations on a Santa Barbara pier in California. These quirky objects are quickly becoming a favourite of locals and performers.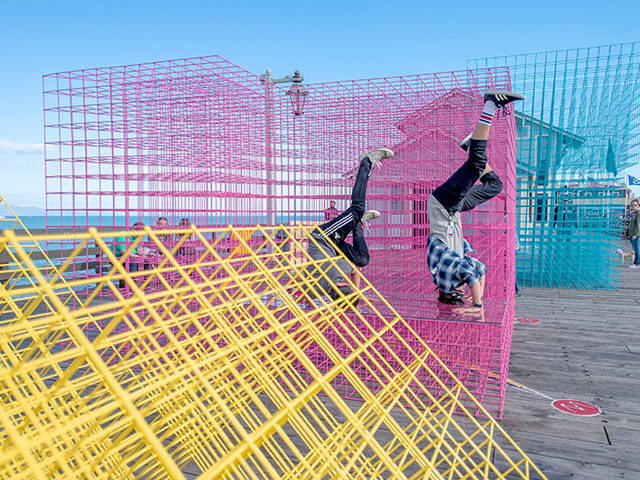 SPORTS — the design collaboration of Greg Corso and Molly Hunker — has installed Runaway as a vibrant beacon for the sunny Californian city of Santa Barbara.
The structures make use of brightly powdercoated metalwork and can support the weight of users who wish to interact in a range of ways with the structures. Three colourful matrix objects made up of thousands of linear elements are brightly-coloured in cyan, magenta, and yellow paints. These simple self-similar geometries have a range of possible orientations, forming a lounge, a bench, or even an impromptu performance stage for the public and passers-by.
In thinking about the installation's visual cues, SPORTS drew from the coastal landscape and the environmental qualities of Santa Barbara's air. "The aesthetic qualities of the air in Santa Barbara is often very powerful and visible — a beautiful blur caused by heat (heat shimmer or mirage) and beach fog (June gloom)," the team describes. "Runaway privileges this visual and atmospheric effect and in so doing, acts as a beautiful spectacle and object of urban decor for the communities of Santa Barbara."
Runaway has been chosen as the winner of the Museum of Contemporary Art Santa Barbara's Take Part | Make Art Pavillion competition. The installation will be moved to six different sites around Santa Barbara, forming a new interpretation in each area. While the urban décor objects add a bold and vivid identity to the landscape, they act as a way to bring people into contact with the public spaces around them, encouraging them to co-opt the space and make it their own.
,
SEARCH
SUBSCRIBE TO ENEWS
MORE NEWS
RECYCLED WHALE BREACHES IN BRUGES
TROLLS IN THE FOREST
THE MAGIC ART OF NATIVE SCULPTURES
SEEING SPHERES
A DROP OF GLASS
TREE SCULPTURES GROW IN MONTREAL