TREE SCULPTURES GROW IN MONTREAL
20 Aug 2018
Artist Michel de Broin has created a pair of public sculptures in Montreal as an urban representation of growing trees, with the aim of encouraging the public to climb and explore the landscape from a new perspective.
Placed in the city's international civil aviation organisation plaza, the two monumental installations are fit with staircases and viewing platforms, inviting passers-by to climb the structures in order to view the landscape from above and reconnect with their surroundings.
Dendrites is named after the branched projections of a neuron that propagate cerebral stimulations, a term derived from the Greek word 'dendron', meaning 'tree'.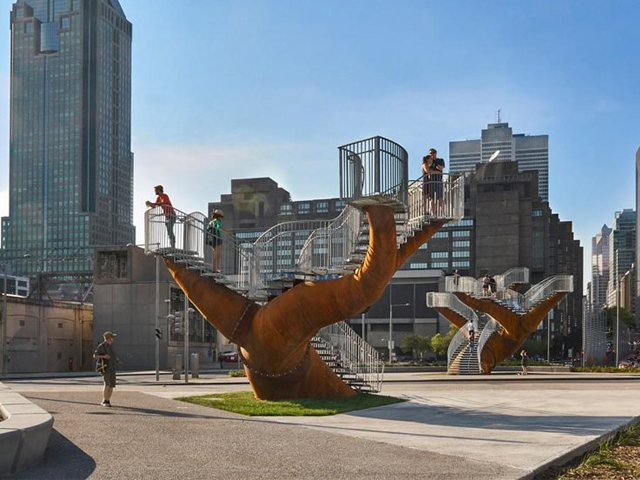 Made from Corten and galvanised steel, the sculptures reproduce this microscopic phenomenon on much larger and more public scale.
The two sculptures encourage people to explore and animate the work, as if they themselves were the "foliage of the tree" and connect across to those in the opposite tree. This allows for people to view the city and each other from a new perspective and engage with art on a personal level.
SEARCH
SUBSCRIBE TO ENEWS
MORE NEWS
DIVING FOR ART IN THE MALDIVES
THE MAGIC ART OF NATIVE SCULPTURES
A DROP OF GLASS
SEEING SPHERES
RECYCLED WHALE BREACHES IN BRUGES
TROLLS IN THE FOREST