SEEING SPHERES
22 Oct 2019
Public spaces are often seen as empty, negative areas in the city, viewed in passing. Olafur Eliasson's Seeing Spheres installation that sits adjacent to San Francisco's waterfront sports arena aims to change this perspective with five reflective silver spheres that encourage the viewer to participate within the space itself, rather than simply view it from a distance.
The Seeing Spheres installation was released in early September and sits on the plaza adjacent to San Francisco's exciting new Chase Centre sports complex, home to the US professional basketball team, the Golden State Warriors. The installation is comprised of five orbs arranged in a circle on the concrete square at the east entrance of the sports arena plaza.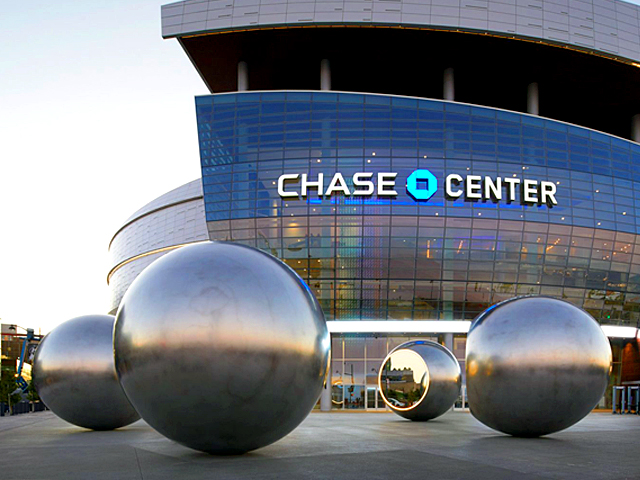 The spheres are arranged in a circle on the concrete square at the east entrance of the sports arena plaza. They are constructed of polished hydroformed steel at 4.7 metres high and 4.8 metres in diameter, with the 'front-face' featuring a flat, circular mirror ringed by LED lights. Each mirror faces inwards towards the other orbs and, when lit up, reflect the surrounding mirrored orbs, creating an endless tunnel effect.
"Seeing Spheres offers a place to pause, where you see yourself from the outside, as a participant in society," said the Danish artist, Eliasson. "We often think of public space as empty, negative space in the city, viewed from a car or crossed on the way to somewhere else. Seeing Spheres is a public space that contains you and contains multitudes."
Eliasson is passionate about creating public spaces that prompt visitors to look at the world from a different angle and to inject themselves into the heart of the space, rather than stand away, separated from it. It is with his artworks that he hopes to integrate communities and public spaces in a more seamless form.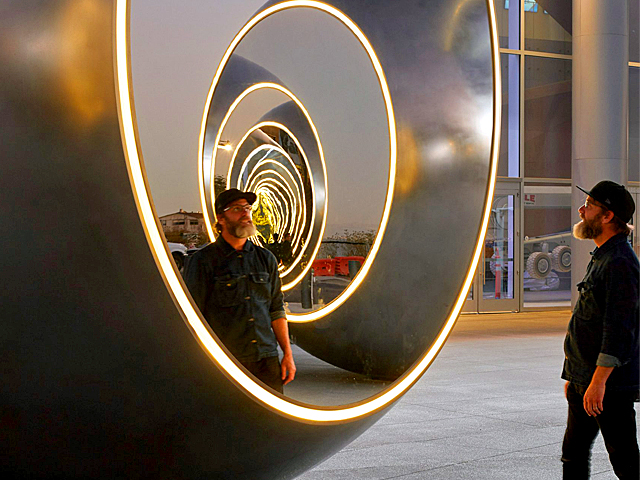 The Chase Centre complex was designed by MANICA Architecture and Gensler. In addition to Seeing Spheres, a host of additional artworks were commissioned to display inside the arena.
Photography by Matthew Millman
SEARCH
SUBSCRIBE TO ENEWS
MORE NEWS
TREE SCULPTURES GROW IN MONTREAL
THE MAGIC ART OF NATIVE SCULPTURES
RECYCLED WHALE BREACHES IN BRUGES
DIVING FOR ART IN THE MALDIVES
A DROP OF GLASS
TROLLS IN THE FOREST