CAUGHT IN A TRAP
22 Apr 2021
A recent opening in Gosford, NSW, has put one of Kaebel Leisure's largest fish-trap inspired play designs on display. Check it out!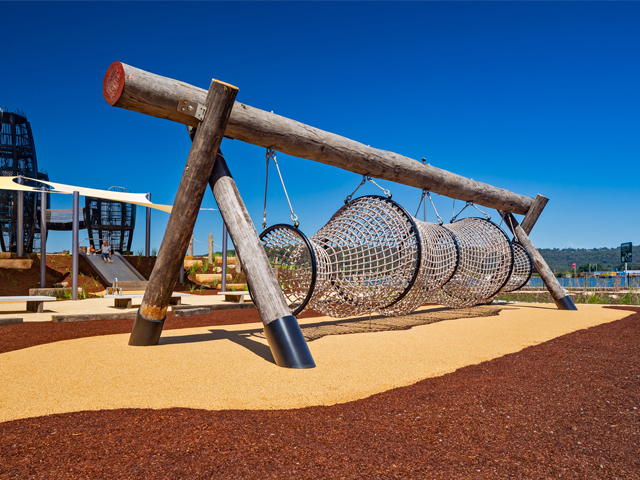 Image by Guy Wilkinson Photography
The leading manufacturer of rope playgrounds in Australia, Kaebel Leisure has drawn on its many years' experience to create rope playgrounds for councils, schools and businesses all over Australia. By pushing the boundaries of technical excellence and creativity, Kaebel Leisure has been able to bring a range of equipment and ideas suitable for every child. Once such idea is the fish-trap net, or Hikane in Maori.
Conceived by Turf Design as part of the Leagues Club Playground, the most recent 'fish trap' by Kaebel Leisure exceeds expectations.
The structure is supported from a single massive hardwood log, the net is deliberately suspended loosely to replicate the swaying motion of traditional woven baskets used by local peoples for thousands of years. Although the cross section remains circular, the offset location of adjacent rings creates a new form which is not only aesthetically pleasing but also unique in its form. Internal ropes mimic the sluice effect which was used to slow down the flow and trap the fish.
Image by BuddyBuddys
Vertical tunnels often require internal fall arrest systems to prevent falling from height. Kaebel Leisure typically work on a maximum of 1m difference in height between levels and introduce rubber floor sections as baffles. A great example of this is the Jungle Park at Whiteman Edge in WA.
Also used as bridging elements, some form of tunnel is used in almost every custom project Kaebel Leisure is presented with. The large bridge at Frankston, Victoria, highlights another large diameter long span bridge and is manufactured using stainless-steel rings resplendent in its 'Blaze Blue' paint.
Image by Hunter&Central Coast Development Corporation
Find out how Kaebel Leisure can help you with your next project via the links below.
SEARCH
SUBSCRIBE TO ENEWS
MORE NEWS
TIMBER PLAYGROUNDS MADE IN AUSTRALIA
SBR RECYCLED RUBBER
STATE-OF-THE-ART ELECTRONIC SCOREBOARDS
INCLUSIVE PLAYGROUND FOR RIVERSIDE PARK
COMBINING ART WITH PLAY
CLIMBERS FOR ALL-AGES