BRINGING TOGETHER THE BEST IN LOCAL DESIGN
16 Sep 2021
Play Workshop has helped to create a unique play space for a local community following the installation of a bespoke playground.
Play Workshop recently completed the design, construction and installation of a bespoke playground for Lane Cove Council at Longueville Park, providing a fun, creative and unique play space for the local community that is sympathetic to the local environment.
Play Workshop specialises in customised play spaces to make truly inspiring play designs come to life. Sourcing and producing locally is important to ensuring quality, sustainability and timely project delivery.
Lane Cove Council approached Play Workshop to assist in the upgrade at the Longueville Park playground, looking for a bespoke solution which resulted in a design that is unique and customised to Council's original concept.
The feature equipment is the timber play structure and the Crow's Nest that are inspired by the form and features of a ship. Primarily working with natural timber and rope components, these custom pieces exemplify creativity and craftsmanship. This theming is continued thoughtfully throughout the playground design.
In addition, Play Workshop also supplied a swing set and seamlessly integrated the new equipment with existing park furniture features.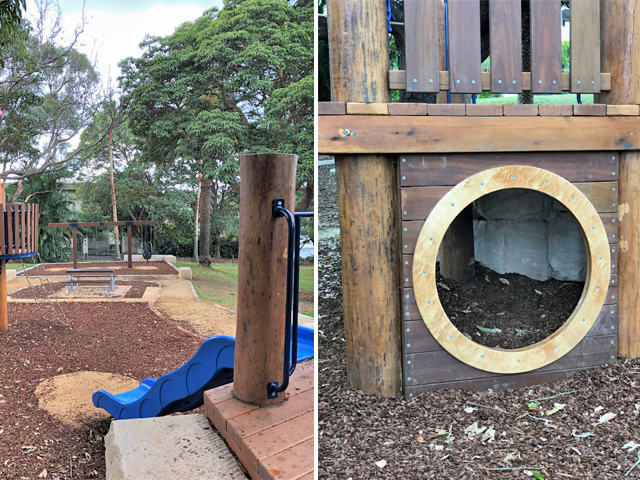 Importantly, the timber play equipment was made locally, in house, using Australian hardwood which is inherently suited to our local climate. By sourcing locally,
lead times could be minimised while collaboration between supplier and client works to bring to life a play space that is unique and cost effective. Sourcing locally and partnering more broadly with Australian play equipment manufacturers, carvers, stone masons, woodworkers and artists, is critical to supporting local Australian businesses.
Play Workshop offers the option of full design and construction services, with extensive experience across playground and landscape projects, local government parks, schools and childcare centres which means you can be assured of competent delivery of your new play space.
To find out how Play Workshop can help you with your next project click here or call +61 2 9420 8296.
SEARCH
SUBSCRIBE TO ENEWS
MORE NEWS
A REGIONAL SUCCESS
CLIMB HIGH WITH OMNITECH TOWERS
AIM TO INSPIRE WITH AUSTEK PLAY
KLIX – THE FUTURE OF RECREATION EQUIPMENT
DURABLE AUSTRALIAN PLAY EQUIPMENT
ONE-OF-A-KIND OUTDOOR GYM