AVIATION PLAYSPACE FLIES HIGH
22 Feb 2018
Omnitech Playground's latest Australian-made custom play tower is the key feature of an exciting Aviation-themed playspace in Victoria.
Warner Reserve located in Ashburton, Victoria, is a new Aviation-themed playspace complete with lookout tower and aeroplane play unit. It caters to all ages, with activities ranging from climbing to sliding, balancing and imaginative play.
Sitting 2.8m above the ground the lookout tower is complete with telescopes and a windsock. It challenges older kids with a tall rock climbing wall, chain ladder and exciting tube slide. The aeroplane unit features easy access decks and a small slide for younger kids, as well as balancing on the Burmese bridge or swinging across the challenge ladder.
Both play elements also strongly encourage imaginative play within the aviation them. Kids can work as a team in the lookout tower as they investigate or explore while practicing communication skills. The aeroplane play unit then facilitates play that can encourage sharing skills and patience as the kids interact in a slightly enclosed aeroplane.
The balance of play equipment and imagination-based elements makes for a compelling play experience.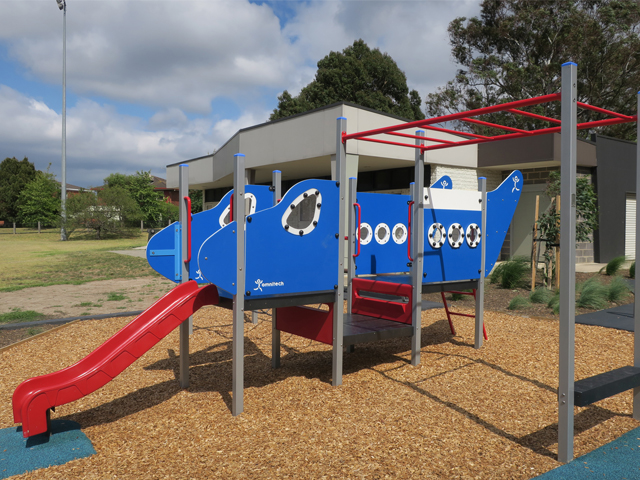 This project showcases Omnitech's versatility when it comes to custom play spaces and is all proudly Australian made.
SEARCH
SUBSCRIBE TO ENEWS
MORE NEWS
DURABLE AUSTRALIAN PLAY EQUIPMENT
KLIX – THE FUTURE OF RECREATION EQUIPMENT
A REGIONAL SUCCESS
ONE-OF-A-KIND OUTDOOR GYM
CLIMB HIGH WITH OMNITECH TOWERS
AIM TO INSPIRE WITH AUSTEK PLAY