ASPIRE TO GREAT HEIGHTS
03 May 2017
Look out Darwin! The new Zuccoli playspace has been outfitted by adventure+ with a huge play tower and a double flying fox to provide locals with endless hours of flying fun.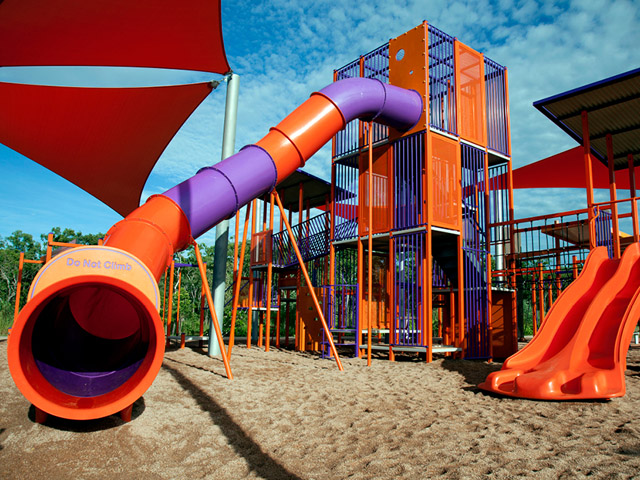 adventure+ worked with Fiona Eddleston from SMEC: Australia & New Zealand Division to develop this huge playspace in the Zuccoli Aspire Estate. Located only 25 minutes from Darwin, the Estate will eventually contain over 2,300 homes for more than 6,000 Territorians. To provide affordability, the developer required smaller house lots, placing a greater emphasis on providing public spaces for the community to socialise, exercise and play.
The centrepiece of the play space is a 6 metre high tower that soars above the tree tops, visually indicating where the play space is within overall area. The highest platform provides stunning views across the estate and surrounding bushland. The tower includes endless adventures for children, from climbing up the maze of stairs to the pinnacle of the tower, to sliding down the large tunnel slide. Also included in the space is a 25 metre Double Flyway Flying Fox.
In an interview with adventure+, Landscape Architect Fiona Eddleston gave some tips for other landscape architects designing play spaces; "To improve on play space design understand people's desire to perform, discover, be alone, play quietly with a few friends, run with the group, create music, climb to varied heights, manage others, engage with nature, get messy, defend territory and build things. If you can achieve these needs in a whole play space environment you will create an engaging and desired place to be."
Read the full interview with Fiona Eddleston HERE
Contact one of the adventure+ playground consultants on 1300 237 587 or head to www.adventureplus.net.au to start your own play project.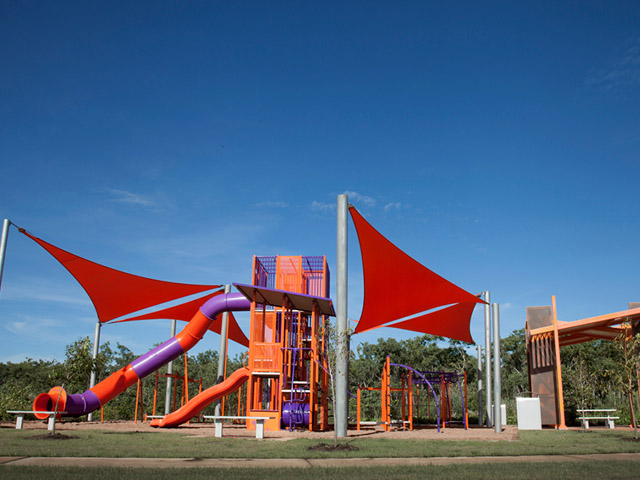 SEARCH
SUBSCRIBE TO ENEWS
MORE NEWS
COASTAL PLAY WORTH THE CLIMB
INCLUSIVE PLAY AT TRESILLIAN PARK
A TON OF FUN WITH PROSLIDE'S MAMMOTHBLAST
CREATING INCLUSIVE PLAYSPACES WITH SIDE-BY-SLIDE™
PREHISTORIC PLAY
REACH FOR THE SKY WITH AIR JUMPERS™