ABU DHABI STRIVES FOR SUSTAINABILITY
14 Sep 2016
A sustainable park will be created in Abu Dhabi that represents a new typology for the region, featuring an urban forest, amphitheatre, natural play areas and a fitness zone for community use.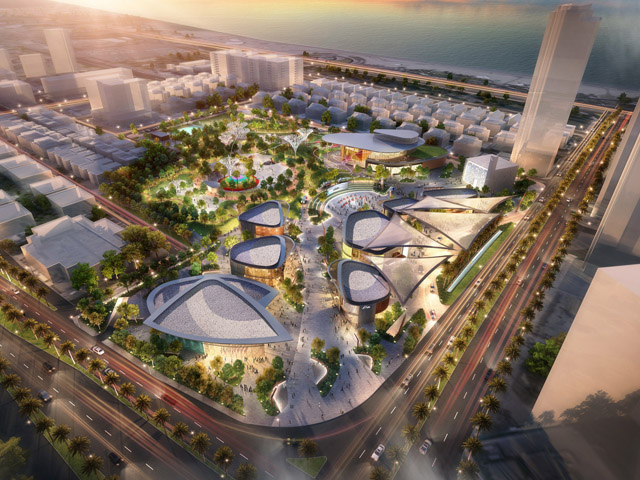 Benoy's UAE studios, best known for their work in the MENA region, have released plans for Abu Dhabi's upcoming Sheikha Fatima Bint Mubarak Park. In a redefinition of the former Khalidya Ladies Park, the renovation – as part of a AED94 million renovation in the region - was commissioned by The Department of Municipal Affairs and Transport at Abu Dhabi City Municipality to "fuel discovery and support the core tenets of the Abu Dhabi Vision 2030."
The open-air project centers on the concepts of sustainability, economic diversification and growth, improved social and community facilities, the promotion of Arab and Emirati culture, and a focus on contemporary living.
"Benoy strives to design environments that are accessible, all-inclusive and serve to bring the community together. As an open-air, multi-dimensional destination, Sheikha Fatima Bint Mubarak Park will represent a completely new typology for Abu Dhabi; one that will appeal to a broad spectrum of demographics to promote cohesion among communities."
Over a span of 46,000sqm, the project will feature an urban forest, lush greenery, amphitheater, cycling track, natural play areas, fitness zone, and Women's Center for the next generation of female entrepreneurs in the region.
"With Sheikha Fatima Bint Mubarak Park, we've deliberately stepped out of our comfort zone to really push the boundaries and create something that will continue to evolve and stay relevant over time," stated Paul Priest, Director and Head of Benoy's MENA Studios.
"I believe that this type of environment, which takes the visitor out of an enclosed space and promotes walkability and discovery, is a trend that we'll see a lot of demand for in the GCC and greater MENA region in the near future."
SEARCH
SUBSCRIBE TO ENEWS
MORE NEWS
TAKING PLAY TO NEW HEIGHTS
APPLE CRATE INSPIRED PLAY TOWER
HIGHRISE FUN WITH RHINOPLAY
WATERPLAY TAKEN TO NEW HEIGHTS
PLAY IN EVERY SENSE OF THE WORD
SAFETY SURFACING MADE EXCITING