A_SPACE LAUNCHES PARK WARRIOR
06 Feb 2020
Struggling to get teens involved in healthy outdoor activity? a_space has spent more than three years developing a solution and is proud to introduce Park Warrior, an innovative obstacle course range that gamifies exercise and play.
Encouraging teens to partake in healthy outdoor activity is a growing challenge, increased by close proximity to screens and the online world. Play specialist a_space has spent more than three years researching, brainstorming and developing a solution that is generating enormous excitement in the industry: Park Warrior!
A brand-new category straddling exercise and play, the Park Warrior range has been developed to encourage people aged 12 and up to get outdoors and get active while having fun.
The Park Warrior range consists of innovative obstacle courses that have thoughtfully configured to be accessible to a broad cross-section of users. The challenge for some will simply be to get through the course, for others it may be to achieve personal best times or to beat the times of their friends.
Instructions and timing are accessed via the Park Warrior app. The app helps users find their nearest Park Warrior installation, includes a timer for recording and saving course times, and provides video instructions including the rules for completing each obstacle.
Unlike structured exercise facilities, the health and fitness gains created from Park Warrior are a bi-product of the activity, rather than the primary purpose.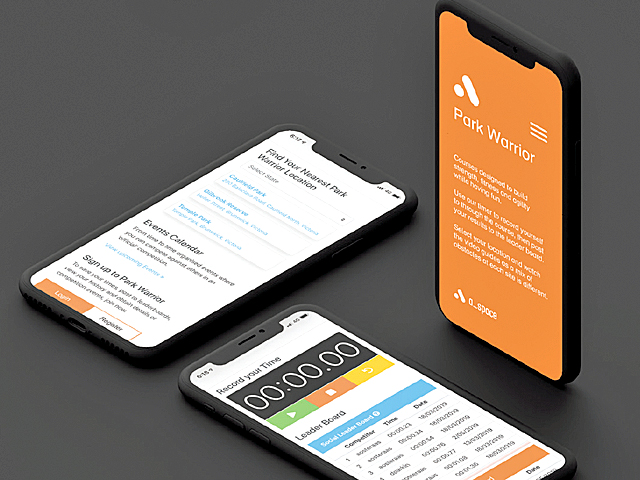 Crossing online engagement with the benefits of outdoor activity, the Park Warrior range is an innovative leap in the right direction to encouraging teens to embrace an active lifestyle.
To learn more about Park Warrior, contact a_space via the links below.
SEARCH
SUBSCRIBE TO ENEWS
MORE NEWS
LEVELS OF PLAY
PLAYGROUND IN THE CLOUDS
THE GATHERING PLACE
KEEPING SPACES COVID SAFE
THE SOUND OF PLAY
VIBRANT COLOURS REVITALISE PLAYSPACE