A DESTINATION PLAYSPACE
09 Nov 2017
Faced with the challenge of creating a 'destination' playspace, the team at Moduplay delivered on a 1.5-acre site with a range of equipment that meets the needs of all abilities and all ages.
"Create a true destination playground that would engage children of all ages and all abilities", was the challenge presented to the Moduplay design team for the completion of Strathfield Park.
The Strathfield Park project spans three separate playspaces spread out over 1.5 acres. Featuring a multitude of accessible products, the newly developed park is truly one of a kind and needs to be seen to be believed. The entire project was designed, manufactured, installed and delivered, along with over 2000m2 of EPDM rubber, over a 12-week timeframe.
On entering the park children are greeted by a 40m-long Triple SkyRider that allows them to clamber aboard and 'fly' into the playground in style. Once in the playspace, children are treated to a smorgasbord of play opportunities where they can literally play for hours.
Low-level rope play and climbing walls form the backdrop of the magnificent SkyTower, the largest in Australia, allowing children to climb, explore, scramble across the rope net bridges and descend the giant tube slides.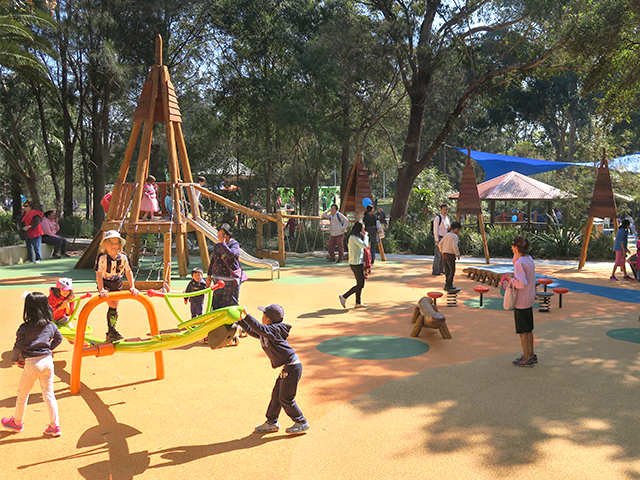 A short run down the hill brings little adventurers to a gigantic 4.5m Mammoth Swing that pivots and swirls as it climbs higher and higher. From there, children head into the 'forest' to discover a whole new world of play, complete with a Maze that features unique Australiana murals and puzzles that test their spelling and their ability to decipher optical illusions.
The inclusive-designed, all-access Carousel takes children on a journey that extends out to the mounds and slides, forts and swings, and so much more.
Back up the hill into the native bushland area, play structures inspired by nature itsel­­f abound, encouraging little climbers to scale the heights, balance and spin and ride until they are exhausted, or exhilarated, or both!
The Strathfield Park project features the very best of Moduplay equipment, including the Inclusive, SkyRider, Konnecta, Spinpoint, Sensory, Bushwood and SkyTower ranges. The final result is an amazing achievement, with well-earned congratulations going to Strathfield Council, the entire Moduplay team and their experienced subcontractors.
Moduplay has been building recreation products and beautiful playspaces for children and families since 1989. Working with landscape architects, local councils, schools, resorts and developers, Moduplay enhances places where children and families gather.
To find out how Moduplay can assist with your next playspace project visit their website.
SEARCH
SUBSCRIBE TO ENEWS
MORE NEWS
PROLUDIC JOINS AILA
CREATING A SPACE FOR EVERYONE TO ENJOY
BALLS OF FUN AT NEW PLAYGROUND
SOFTFALL TESTING PARTNERS WITH PLAYGROUND123
OMNIWARRIOR IS HERE!
BRINGING TOGETHER THE BEST IN LOCAL DESIGN