3 INDICATORS OF AN EFFECTIVE OUTDOOR PLAY SPACE
10 Dec 2020
There is a lot of time and effort expended by landscape architects, project managers and local government officials in designing and creating safe and effective play areas for community parks. adventure+ enjoys playing a necessary part in the process by providing engaging and unique playground equipment that meets Australia's safety standards.
Still, how do we ensure that the play spaces we create are effective in creating a stimulating but safe playground? How do we know it has met its objectives?
The good news is that the indicators are there. By asking the following questions, the answers will give you a clear indication of whether your play space design is performing as intended. From there, you will know which elements to improve or replace to make sure your outdoor playground serves its true purpose.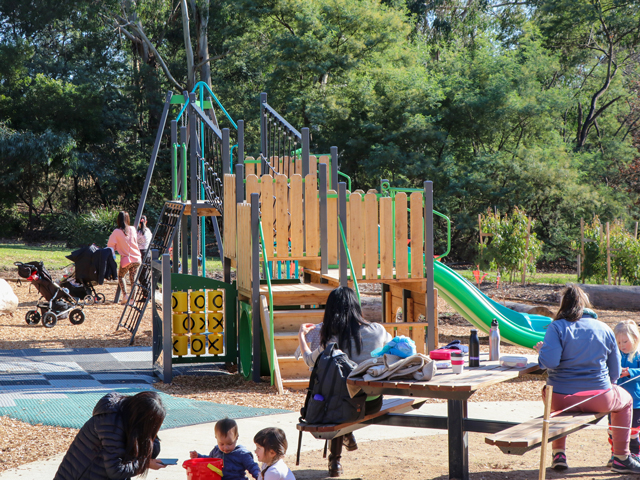 DOES THE PLAYGROUND GET USED?
"The proof is in the pudding." In this case, it's in the using. The true acid test of any good play space design is that it gets used. Playgrounds are not built to be empty. Observation over time can provide a clear indication as to whether residents are interested and engaged, because if they are, they will come back again and again.
HOW LONG DO PEOPLE STAY?
Engaging playgrounds engross children for a long time.
Ever taken your children to a playground and they are tired of everything in the first five minutes? This indicates that it is not fulfilling one of its core objectives – engagement. A great playground fosters a child's imagination and provides them with lots of options for play and opportunities for physical and creative expression.
Not all parks can be the flagship fun zones. Some simply do not have the capacity. Different parks have different expected lengths of visit. A pocket park, for example, will only expect to entertain children for a shorter period, but a destination regional playground should occupy children and their families for hours.
ARE THE RESIDENTS SATISFIED? OR WORSE, ARE THEY REGISTERING COMPLAINTS?
While a community's overall satisfaction is not as easily observable, it is a method of assessing whether your play space is successful. Many councils conduct surveys on the effectiveness, assessing which playgrounds are most popular and why. And councils also receive complaints about some playgrounds. What is your council hearing?
For more advice on playground design or products, contact adventure+ on 1300 237 587 or via the links below.
SEARCH
SUBSCRIBE TO ENEWS
MORE NEWS
APPLE CRATE INSPIRED PLAY TOWER
ESCAPE THE HUSTLE WITH QUIET GROVE
OMNITECH LAUNCHES INTO THE NEW YEAR
NEW PLAY PRODUCTS FOR 2021
HIGHRISE FUN WITH RHINOPLAY
SAFETY SURFACING MADE EXCITING