XXX TIMES SQUARE WITH LOVE
14 Sep 2016
A new custom built art installation – XXX Times Square With Love – in NYC doubles as a street furniture suite that allows visitors to take a load off and check out the famous site from a new perspective.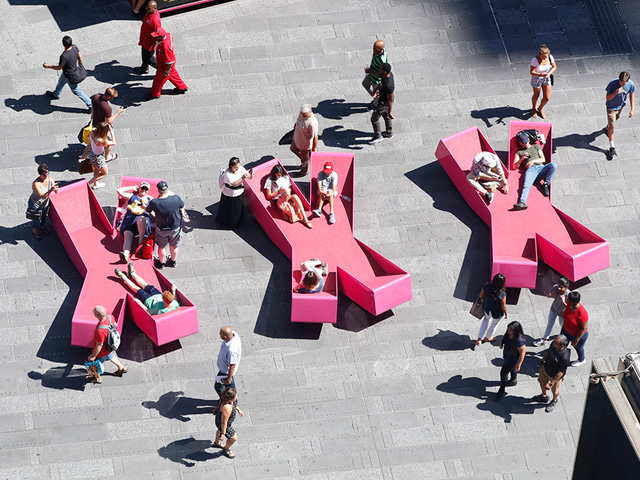 J. Mayer H. has planted XXX Times Square With Love in the heart of New York City. The public art installation comprises three, pink X-shaped outdoor loungers custom-built for the area, each accommodating up to four people. The legs of the 'X' act as a horizontal recliner that allows visitors to lie down and take in a vertical perspective of the surrounding skyscrapers.
J. Mayer H. drew from the 'X'-like intersection of Broadway and 7th Avenue in the design of the loungers. Organised in a row, the oversized letter forms appear as abstract pink geometries at close range, revealing their full composition from above. "Lying down on XXX allows for a completely different perception of Times Square and its media presence," Jürgen Mayer says.
"The view goes vertical while you are broadcast via many of the public webcams of Times Square looking down on you. And besides your new perspective on the skyline, you might want to snap a selfie of yourself relaxing to share your XXX with friends and family."
The installation also hints at the more adult history of Times Square, as Tim Tompkins, president of the Times Square Alliance, explains: "Mayer H. delivered for us a striking and original street furniture design that not only references Times Square's x-rated history, but also offers users a very different way of looking at and sharing a place that, on average, is posted on instagram no fewer than 17,000 times a day."
The project is curated by the Times Square Arts, an organisation that collaborates with artists and cultural institutions to engage with one of the world's most recognisable urban settings.
SEARCH
SUBSCRIBE TO ENEWS
MORE NEWS
ESCAPE THE INDOORS WITH STREET FURNITURE AUSTRALIA
FELTON INDUSTRIES LAUNCH NEW PRODUCT CATALOGUE
HAVE YOU HEARD ABOUT BLISS FABRICS?
STREET FURNITURE AUSTRALIA BRINGS PEOPLE TOGETHER
MELBOURNE EMBRACES OUTDOOR DINING
OUTDOOR LEARNING MADE COMFORTABLE