WORLD'S FIRST PUBLIC WATER SQUARE
16 Jul 2014
The world's first public water square in the Netherlands is part of a major plan to make the city of Rotterdam fully climate proof by 2025.
Rotterdam's first full-scale water square combines leisure and stormwater storage in an attractive design.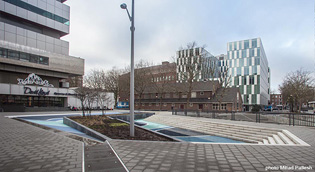 In dry weather, the water square offers nice spots for recreational use, such as basketball, hockey and skating. Surrounded by gradated layers of stadium-style seating, the square can host both competitive and leisure sports.
To activate all interests in the community, the space can also double as an outdoor theatre, or be used as play space for community children.
During heavy rainfall, the square's basins retain up to 1.7 million litres of water from the square and the surrounding rooftops. Running alongside the length of each side of the square are large basins that recess in the ground like wading pools. Whenever it rains, the basins collect water, while a third collects overflow during heavy rain.
The rain is diverted through steel gutters that run along the square in patterns. This water is retained, keeping it away from the sewage system, preventing urban floods and helping to minimise flood damage when showers become intensive.
Alexandra van Huffelen, Rotterdam's vice mayor said; "As a low-lying delta city with some 600,000 people we cannot flush a sudden storm water away. Therefore, the city embarked on a climate adaptation strategy that turns every conceivable area into water storage.
"The Dutch have lived below the sea level for centuries and are used to dykes and barriers. But today we're experiencing heavier and more unpredictable rainfalls, so behind the barriers we're turning the city into a sponge."
The water square redefines public space and complements the surrounding architecture, while also providing a self-sustaining green space for the community.
The major goal of this initiative is to make the city fully climate proof by 2025.
SEARCH
SUBSCRIBE TO ENEWS
MORE NEWS
PARK WARRIOR COURSES ARE SPRINGING UP ACROSS AUSTRALIA!
LANEWAYS REVITALISATION PLAN
SYDNEY'S NATURAL STONE SPECIALISTS
CENTRAL PARK VISION FOR MIDTOWN MACPARK
NATURE-BASED PLAY
CREATING TIMBER ALTERNATIVES