WATTWAY: THE WORLD'S FIRST SOLAR PANEL ROAD
06 Feb 2017
Revolutionising the very streets on which we commute, France has unveiled the world first solar road panel that generates power as you drive.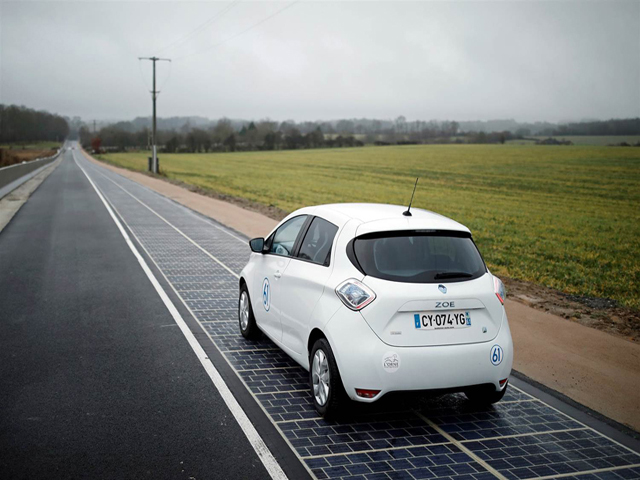 France has unveiled 'Wattway', the world's first solar panel road set in Tourouvre-au-Perche, a small village in Normandy. Announced by Ségolène Royal — French minister of ecology — the one-kilometer road is covered in 2,880 photovoltaic panels protected by a silicon-based resin that makes them resistant to the heavy weight of passing vehicles.
The solar path is expected to generate 280MWh per year, divided between an average of 767 kWg per day, with peaks of up to 1,500 kWh during the summer. An information panel near the solar road will indicate in real time the energy that has been produced as well as the accumulated one since its installation. It has been estimated that 20 m² of Wattway panels can supply the non-heating electricity requirements of a single home. Applied to a kilometre of road, it could provide enough electricity to power the street lighting of a town of 5,000 people.
Wattway CEO Jean-Charles Broizat commented, 'This project is an important step in the development of the Wattway solar road and we will keep on experimenting and testing. Building an application site of this magnitude is a real opportunity for our innovation. This application site has enabled us to improve our process of installing photovoltaic panels as well as their manufacture, in order to optimize our solution as best as possible.'
If successfully integrated into the daily life and infrastructure of Tourouvre-au-Perche, Wattway could be set to revolutionise the way communities face the challenges of transportation and energy consumption in an infrastructure environment that desperately needs eco-friendly alternatives.
SEARCH
SUBSCRIBE TO ENEWS
MORE NEWS
UPPER AUSTRALIA
STYLE & COMFORT IN PLAY
PLAY IN THE SKY
PERTH WELCOMES NEW $695M UNIVERSITY CAMPUS
BREAKING FREE
DIABOLO BABY® A GOOD DESIGN AWARD WINNER