VISUALLY TWISTED BUILDING
10 Dec 2014
A visually twisted building has been unveiled for Miami Beach, featuring large open spaces, fluid rooms, natural air circulation and green foliage.
Designs for a visually twisted building have been unveiled for the Latin America Art Museum (LAAM), to be built on Biscayne Boulevard in Miami Beach.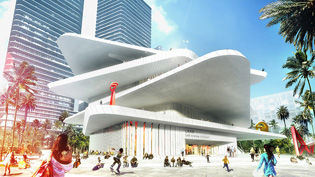 The architecture of the building will incorporate many features of the surrounding natural environment, resulting in benefits such as natural air circulation, access to open spaces and fluid rooms, green foliage and views of Miami Beach's iconic sun and surf. The terraces of the different floors will also display artworks out in the open air.
Plans for the 90,000 square-foot building were unveiled at the 2014 Art Basel Miami Beach, an event in which more than 250 of the world's leading art galleries participate.
Commissioned by a private art collector, the Latin America Art Museum has a number of ambitious goals in pursuit. Developed not only to strengthen the connection between the U.S and Latin America, the museum is hoped to provide Latin American Modern and Contemporary Art with a platform for cultural appreciation as well as standing at the forefront of its commercial representation.
The four floors of the museum have been thoughtfully planned out, each catering to a specific purpose. On the first floor young and emergent artists will reside, as well as a museum shop and a café. The second floor will showcase temporal exhibitions while the 3rd floor will house a permanent collection of over 600 pieces. A cherry on top in the form of a restaurant, will crown the building on the fourth and final floor.
The building will stand in front of a separate residential complex to be built at a later date. 111 apartments will be located in the building, the main access to which will be through the museum.
When built, the Latin America Art Museum is expected to become a cultural hub and social space for locals, visitors and tourist alike.
SEARCH
SUBSCRIBE TO ENEWS
MORE NEWS
2020 AUSTRALIAN INSTITUTE OF HORTICULTURE AWARDS
GYRO MULTIDIRECTIONAL SWING FROM ADVENTURE+
HEALTH INFRASTRUCTURE DELIVERY CHANGES
A CLEANER MESH SOLUTION FROM RICKY RICHARDS
QUALITY SURFACES FROM MPS PAVING
VISITOR HUB AND LIBRARY FOR PRAHRAN SQUARE