UNIVERSITY OF SA POWERS UP
06 Aug 2020
Street Furniture Australia's PowerMe tables and Aria seats have been installed in the outdoor spaces of the University of South Australia's Jeffrey Smart Building, inspired by the work of the artist for whom the building is named.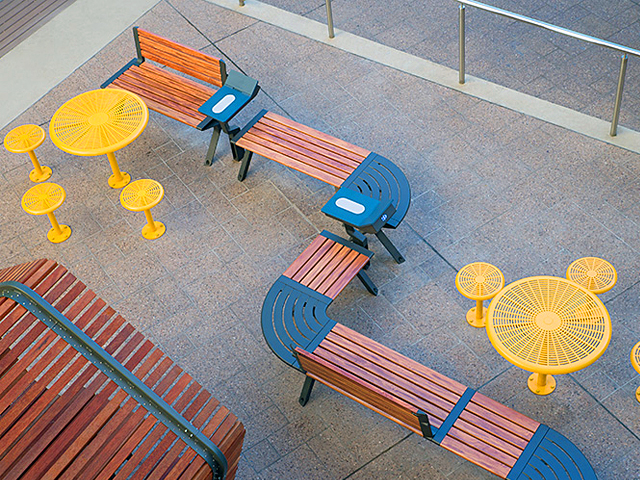 "The University is happy with the positive outcome of the Jeffrey Smart courtyard project, which has increased flexible seating opportunities and has made these important spaces more permeable and user friendly," says Andrea King-Jones, Project Manager with the University of South Australia.
"It is now a destination place that encourages people to stop and spend time rather than pass through."
Heath Edwards, Project Director with Swanbury Penglase, the firm that design the upgrades, says, "The vision for the forecourt and rear courtyard of the Jeffrey Smart Building on Hindley Street Adelaide was to respectfully upgrade these spaces to provide increased flexibility, permeability and visual connection for students, staff and visitors to meet and move through.
"Design inspiration came from the artist Jeffrey Smart who included bold pops of colour in his urban landscape paintings that depicted city and suburban life. His last work, Labyrinth, inspired the paving pattern design in the forecourt area.
"Overarching design principles were established with the client to guide the design process and outcome including edges and barriers, accessibility, flexibility, materiality, technology and visual language."
A curved Aria configuration installed in the Southern Courtyard features PowerMe Tables for outdoor device charging, allowing students, staff and visitors to power their phones and laptops. The Aria seating is paired with Cafe Round Tables and Stools to allow groups to meet and work or dine together.
"An array of loose and fixed furniture was deliberately selected to provide multiple options for users. Colour and different materials were important to provide interest, contrast and to enliven the spaces," says Heath.
"Technology was deliberately integrated into the spaces to extend the capability for learning activities outside of the building. Additional power was located in both spaces to allow for larger gatherings (social functions and graduations) to occur."
Contractor BluBuilt delivered the project. The new spaces were an "instant success" says Stuart Spillane, BluBuilt Project Manager. "As soon as the area was opened to the public, it was being used within 15 minutes by patrons of the University," he says.
The Aria seating features the ultimate low-maintenance and highly durable combination of finishes – with Wood Without Worry woodgrain aluminium battens in Spotted Gum and Textura powdercoated frames in Monument.
Stuart says the project was completed to high satisfaction to the client's requirements, and Street Furniture Australia staff were helpful throughout the ordering process, delivery and installation.
"The South Australia representative was very proactive in responding to our technical queries regarding the products ordered from Street Furniture Australia," he says.
"Street Furniture Australia also ensured delivery time frames were implemented to ensure no program delays occurred for the project. Furniture was delivered preassembled, which enabled onsite installation to proceed efficiently."
Artist Jeffrey Smart with his last painting Labyrinth
Contact Street Furniture Australia via the links below to find out more about the range of street furniture available.
SEARCH
SUBSCRIBE TO ENEWS
MORE NEWS
THE BENEFITS OF USING AUGMENTED REALITY TO DESIGN PUBLIC SPACES
DOGGIE DUNNIE | A DOG PARK NECESSITY
SECURE BIKE SHELTER AT BEACONSFIELD
ADD VALUE TO EXISTING SPACES WITH GRILLEX
WHAT MAKES A DRINKING FOUNTAIN DDA COMPLIANT?
CREATING PARKS FOR PEOPLE OF ALL ABILITIES