THE ULTIMATE FLOORING SOLUTION
18 Oct 2015
SureStone is the ultimate flooring solution, offering a seamless, hard wearing, long-lasting stone floor surface, perfect for Australia's indoor-outdoor lifestyle.
A recent SureStone application at the Thompsons Parkway Shopping Centre, on the Corner of South Gippsland Highway and Thompsons Road in Cranbourne South, has seen an external upgrade replacing tiles with our SureStone.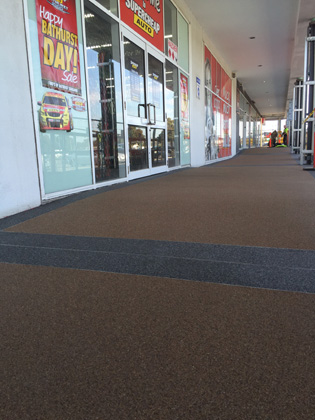 Installation by Surface X, the application as seen in the images, provides an attractive and durable finish seen here with our Cotta Granite for the walkway with a Blue Grey Marble Edging.
SureStone is the ultimate inside out flooring surface composed of natural stone encased in a high quality resin to create a seamless, hard wearing, long-lasting stone flooring solution, ideally suited for Australian open plan living.
Offering the latest resin technology, SureStone offers an environmentally-friendly stone surface for the aesthetic enhancement of domestic and commercial environments.
SureStone is available in a range of natural and designer colours to provide a bold, seamless finish that projects the natural qualities of stone.
The particular benefits of SureStone include:
Australian made and produced
Generally ready for use within 24 hrs
Suitable for installation on most existing floors
Long lasting and hard wearing
Seamless and stain resistant
Easily cleaned and maintained
Energy efficient
Product warranty
For further information visit our website: www.surestone.com.au or contact Omnicrete on 1300 851 523.
SEARCH
SUBSCRIBE TO ENEWS
MORE NEWS
THE UNIQUE TOUCH ADDED THROUGH THE VIENNA FURNITURE SUITE
DIY SOFTWARE: SIZE UP YOUR OWN DRAIN
BEVERLY HILLS BRINGS BOTANICS SKY HIGH
PARKS & LEISURE AUSTRALIA CONFERENCE RESCHEDULED
JINING ART MUSEUM SHOWCASES ORGANIC SHAPES
SCULPTURES FOR SKATERS