THE OUTDOORS GET (SOLAR) LIT
26 Sep 2019
Specialised Solutions is the Australian leader in developing prefabricated solar structures that can be used for a wide variety of outdoor solutions, including benches, seats, bus stations, lighting and more.
The solar structures from Specialised Solutions feature a 1.5kw system with USB charging stations and LED lights that are combined with park benches or multipurpose structures. Optional extras include a QI wireless charger, interactive display or touch screens, and Wi-Fi.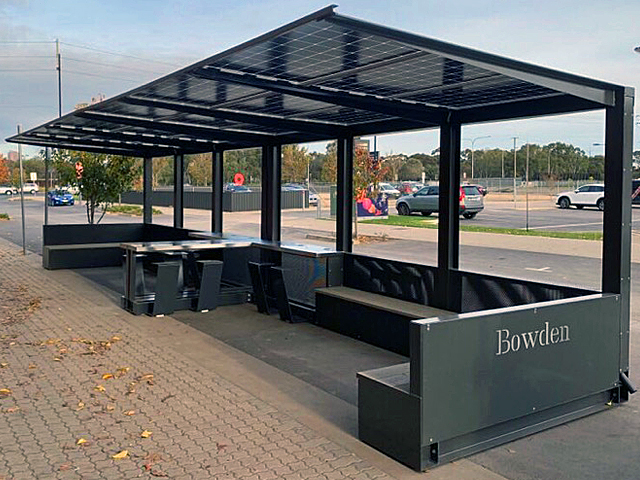 These systems are perfect for:
Councils parks and public spaces
Regional tourism and attractions
Events and festivals – can assist in charging facilities such as toilets
Universities, schools, TAFE campuses
Rural power requirements
Roadside rest stops
Specialised Solutions has also developed a structurally engineered, architectural, solar mounting system that is used to form large-scale rooftop solar structures. The solar panels form the canopy, are watertight and have a hidden cable management system, making them a highly effective solution. The structural panels can be supplied in kit-form or installed by Specialised Solutions team of riggers.
The large-scale structures are perfect for:
Electric vehicle charging stations
Shopping centre carparks
University carparks
Canopy structures in parks or roadside parking areas
For more details and to specify solar solutions for your outdoor space, contact Specialised Solutions via the links below.
SEARCH
SUBSCRIBE TO ENEWS
MORE NEWS
SMART CHILLOUT HUB A WORLD FIRST
SMART ASSETS FOR OPEN SPACES
A TOUCH OF GOLD
COST-EFFECTIVE SOLUTIONS FOR GRC
FURNITURE? SCULPTURE? STAGE?
NEW TERRAIN FOR STREET FURNITURE