SYNTHETIC SPORTS TRACK SURFACES
08 Oct 2014
Surfacing Contractors Australia is proud to be Advanced Polymer Technology (APT) Certified installers of the Spurtan System.
Surfacing Contractors Australia has been installing synthetic sports track surfaces for over a decade and is proud to be Advanced Polymer Technology (APT) Certified installers of the Spurtan System.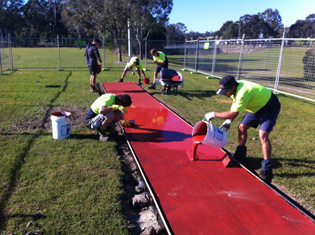 The Spurtan system is an APT patented system, with all materials being manufactured in Australia under strict ISO controls. It is available in several specifications from single layer permeable systems to multi-layer sandwich style permeable and non-permeable systems.
Spurtan is IAAF (International Association of Athletics Federations) Certified, meaning that it gives the highest level of performance for all track and field disciplines. From top level competitive sporting stadiums to local sports club training facilities, high-performance jogging tracks and other soft surfacing needs, Spurtan is your optimum synthetic surfacing option.
Our own Sportsmix system has also proved a popular budget choice for many of our clients, with installations all across Australia. Sportsmix is a single layer synthetic sports surfacing product that despite not being of an international standard, proves to be a cost-effective and practical solution for all sports surfacing needs. Its applications are vast including jogging tracks, athletic tracks, long jump run ups, multi-sports courts, aerobic exercise areas, home and commercial gymnasiums and more.
During our extensive history of installing synthetic surfaces, Surfacing Contractors Australia has installed a number of Spurtan system tracks for various councils, sporting clubs and private clients. One of our recent projects in the city of Brisbane saw us install a single layer, water Permeable Spurtan System as a jogging track over an area of 3000m2. This has been one of our largest projects to date.
For more information on our Spurtan and Sportsmix systems, or for any other synthetic surfacing enquiries, visit us at www.surfcon.com.au
SEARCH
SUBSCRIBE TO ENEWS
MORE NEWS
PROLUDIC JOINS AILA
WORLD-LEADING SOLAR STREET LIGHTING
WHEELCHAIR ACCESSIBLE STREET FURNITURE
BRINGING TOGETHER THE BEST IN LOCAL DESIGN
MULTI-DIMENSIONAL DESIGN
HIGH-QUALITY PLANT STOCK