SUPERIOR WORK IN STAINLESS STEEL
03 Feb 2016
UrbanFF are fast becoming stainless steel specialists, offering premium quality stainless steel finishes in many of their product lines.
UrbanFF love working with stainless steel! Although traditionally many of our products are manufactured from mild-steel for cost effectiveness, architects are increasingly demanding the use of stainless steel finishes, to give their projects a stylish, classic look.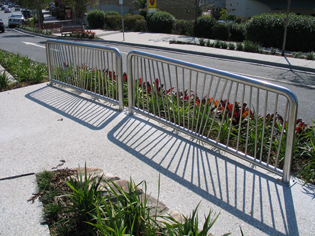 Many of the standard product lines offered by UrbanFF, including drinking fountains, showers, seating, tree grates and bins, are available in a stainless steel finish.
UrbanFF have state-of-the-art machinery for cutting, welding and polishing stainless steel to a variety of finish levels, from brushed and satin finishes, to a highly polished mirror finish. Our skilled and experienced tradespeople are able to fabricate in stainless steel to the usual high standards our customers expect from all UrbanFF products.
Stainless steel is desired due to its anti-corrosive properties, its strength, its outstanding street appeal, and its low-maintenance after-care. When manufactured, prepared and finished correctly, stainless steel can be a good alternative to traditional galvanised and powder-coated mild-steel.
Although initially stainless steel can be a more expensive choice of finish, if maintained correctly stainless steel is less expensive long-term when it comes to maintenance and replacement costs.
To view the full range of stainless steel options available from UrbanFF visit www.urbanff.com.au
SEARCH
SUBSCRIBE TO ENEWS
MORE NEWS
SOAK UP THE GREAT OUTDOORS WITH RAINWARE
UNDERSTANDING WASTE STREAMS
MODULAR SOCIAL SEATING FOR URBAN STREETSCAPES
ADD VALUE TO EXISTING SPACES WITH GRILLEX
DRINKING FOUNTAIN INSPIRED BY NATURE
SECURE BIKE SHELTER AT BEACONSFIELD